Lacanian Psychoanalysis with Babies, Children, and Adolescents: Further Notes on the Child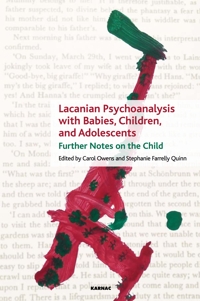 Also by Carol Owens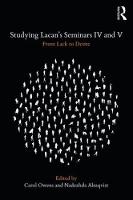 Lacan did not say or write very much about the psychoanalysis of children. There is no doctrine of the psychoanalysis of children in his work. Instead, his 1956-1957 seminar on 'the object relation' and his 'Note on the Child' of 1969 have been adopted by Lacanian analysts working with children as providing essential coordinates for direction in their clinical work. This book is the result of inviting psychoanalysts of the Lacanian orientation working with children around the globe to theorise and conceptualise that work.
The Lacanian psychoanalyst works with the notion of the subject as a 'speaking being', but the child subject brings particular exigencies to the psychoanalytic work. Contributors attend to these exigencies in their essays by articulating the precise particularities of the direction of the treatment and psychoanalytic work with children. Contributions consider and explore the effects of new technologies, bio-medicine, and the discourses of global capitalism and neo-liberalism upon the constitution of new child subjectivities and their correlative psychopathologies; inventions and reinventions of the role and function of the 'father'; the scope and value of differential diagnosis; the child as 'symptom' in and of 'the system'; and ultimately, guidelines for a specifically Lacanian direction of the treatment with children.
Reviews and Endorsements
'The relevance and specificity of Lacanian psychoanalysis for children had never been properly assessed before the publication of this crisp, intelligent, and highly readable collection of essays by renowned specialists. Here is the original ABC of psychoanalysis with the young: adolescents, babies and children. We will keep learning from these lucid, compelling, and profound elaborations combining insights drawn from Lacan with analyses found in Spielrein, Winnicott, and Dolto. Countless concrete examples and evocative vignettes make this collection come to life on every page.'
–– Patricia Gherovici, psychoanalyst and author of Please Select Your Gender and Transgender Psychoanalysis

'Carol Owens and Stephanie Farrelly Quinn bring us chapters by clinicians working with child and adolescent subjects suffering from a wide variety of age-old and all-too-modern maladies, predicaments, and family configurations. In addition to a lucid presentation of Françoise Dolto's views about what position to adopt and how to proceed in analytic work with children, the many case discussions provided here should be of interest and value to child therapists of many persuasions.'
–– Bruce Fink, Lacanian psychoanalyst

'This is a landmark text that will engage practitioners working with children. It marks out new terrain in Lacanian psychoanalysis, but also connects with other traditions and key current challenges and debates posed by children and childhood. This impressive volume connects with wider debates about forms of neoliberal subjectivity now inhabited by children and young people, and also modes and practices of gender and sexual diversity. Both these directions challenge psychoanalytic orthodoxies, as well as highlighting how the figure of the child in analysis reinvigorates core questions of analysis in general – from the status of the Father to the inevitable others materially and bodily engaged in the analysis with the child.'
–– Erica Burman, Professor of Education, University of Manchester, and group analyst

'With its beautifully delineated clinical examples, drawn from a wide range of international contexts, this book advances the field of Lacanian child psychoanalysis. The work offers a broad and deep introduction to Lacanian theory, and does so in the context of carefully etched clinical portraits. It breaks new clinical ground, exploring institutional care, absent fathers, collateral work with parents, and the effects of "psycho-technologies of consumer capitalism" such as smartphones and tablets. For clinicians new to Lacanian work, this book offers a warm invitation to join a conversation that always puts the interests of the speaking subject first.'
–– Michael O'Loughlin, Adelphi University, author of The Subject of Childhood

'This book is a fundamental reading in psychoanalysis not only for all those working with children, but also for those working with adults as well. It is important for demonstrating the Lacanian approach to child analysis and also for bringing the work of Françoise Dolto to a wider audience.'
–– Danuza Machado, psychoanalyst, member of the Centre for Freudian Analysis and Research and coordinator of its Child Analysis Working Group; founder member of the Maison Verte, UK

'This is a particularly stimulating book that vouches for the vitality of the Lacanian movement in psychoanalysis with children. Lacan's distant students show the fruitfulness of his teaching by reinventing psychoanalysis with children today, and taking us further.'
–– Alain Vanier, full professor of psychopathology and psychoanalysis, and director of graduate studies at the University of Paris Diderot – Paris 7
About the Editor(s)
Dr Carol Owens is a psychoanalyst and clinical supervisor in private practice in North Dublin. She has lectured on psychoanalysis at Trinity College Dublin, Dublin City University, and Independent Colleges Dublin. A registered practitioner member of the Association for Psychoanalysis and Psychotherapy in Ireland, she is also the founder of the Dublin Lacan Study Group. Her work has been published in a number of journals and books.
Stephanie Farrelly Quinn is a psychoanalytic psychotherapist in private practice in Co. Louth. She is a course leader and tutor on Early Years Education and Social Care programmes within Coláiste Dhúlaigh College of Further Education, Dublin. She is a member of the Association for Psychoanalysis and Psychotherapy in Ireland and is a member of the Training Committee within the organisation.
You may also like