Lacanian Psychoanalysis and Eastern Orthodox Christian Anthropology in Dialogue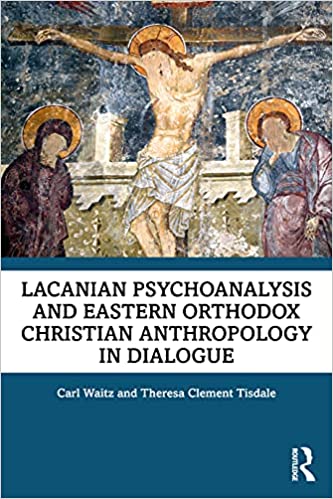 Book Details
Publisher : Routledge
Published : October 2021
Cover : Paperback
Pages : 172
Category :
Lacanian Psychoanalysis
Category 2 :
Psychoanalysis
Catalogue No : 96025
ISBN 13 : 9781032102412
ISBN 10 : 1032102411
This book vigorously engages Lacan with a spiritual tradition that has yet to be thoroughly addressed within psychoanalytic literature-the Eastern Orthodox Christian tradition.
The book offers a unique engagement with a faith system that highlights and extends analytic thinking. For those in formation within the Orthodox tradition, this book brings psychoanalytic insights to bear on matters of faith that may at times seem opaque or difficult to understand. Ultimately, the authors seek to elicit in the reader the reflective and contemplative posture of Orthodoxy, as well as the listening ear of analysis, while considering the human subject.
This work is relevant and important for those training in psychoanalysis and Orthodox theology or ministry, as well as for those interested in the intersection between psychoanalysis and religion.
Reviews and Endorsements
In today's world, we need faith, but one that is grounded in the essential mysteries that mark the human journey. In this volume, Waitz and Tisdale make a plea for the place of the inexplicable in both psychoanalysis and religion, inviting a reading of each that advocates for, not knowledge, but rather a learning that can continue to enrich our lives and spirits rather than closing down possibilities. For those attempting to move beyond pleasure and fear towards an ethic of personal responsibility, this is an important volume. - Marilyn Charles, PhD, ABPP Staff Psychologist/Team Leader, Austen Riggs Center; Teaching Associate in Psychiatry, Cambridge Health Alliance, Harvard Medical School; Training Analyst, Michigan Psychoanalytic Council, Chicago Center for Psychoanalysis.

In the Orthodox Christian world, psychoanalysis and psychotherapy have been met with suspicion, even prompting some theologians to invent a distinctive form of "Orthodox psychotherapy." This book provides an excellent introduction to Lacanian psychoanalysis, which is then brought into dialogue with Orthodox anthropology. The result is an authentic engagement that avoids reductionisms and mutual exclusivities. The authors succeed in demonstrating how theological anthropology could benefit from psychoanalysis, and vice versa. A must read for all interested in what it means to be human. - Aristotle Papanikolaou, Professor of Theology, Fordham University, Archbishop Demetrios Chair in Orthodox Theology and Culture, Co-founding Director, Orthodox Christian Studies Center.

Waitz and Tisdale make a significant contribution to the dialogue between Lacanian psychoanalysis and Eastern Orthodox theology. The reader will not only find a lucid and competent introduction to the often impenetrable writings of Lacan, but also an original comparison between these two very disparate traditions. Lacanian Psychoanalysis and Eastern Orthodox Christian Anthropology will set the standard for any future research in this field. Drawing on major Orthodox figures such as Christos Yannaras, the authors establish astonishing affinities between Eastern Orthodox thought and Lacanian psychoanalysis. This intellectually bold and stimulating monograph will enrich and challenge both Orthodox theology and Lacan scholarship. Some of the views expressed in the book will not remain uncontested. But it will undoubtedly stimulate discussion and provoke further debate about this topic. - Christoph Schneider, PhD, Academic Director of the Institute for Orthodox Christian Studies.
About the Author(s)
Carl Waitz, PsyD is an Attending Psychologist at Boston Children's Hospital, a Clinical Instructor at Harvard Medical School, and maintains a small private practice in Brookline, MA. His research and clinical interests include depression, suicidal thoughts and behaviors, Lacanian psychoanalysis, and treatment of adolescents and young adults.
You may also like