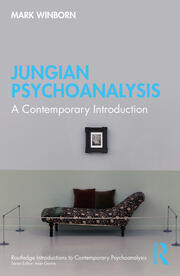 Book Details
Publisher : Routledge
Published : August 2023
Cover : Paperback
Pages : 158
Category :
Jung and Analytical Psychology
Catalogue No : 97343
ISBN 13 : 9781032121932
ISBN 10 : 1032121939
Also by Mark Winborn
Jungian Psychoanalysis: A Contemporary Introduction provides a concise overview of analytical psychology as developed by Carl Jung.
Mark Winborn offers a succinct introduction to the key elements of Jung's conceptual model and method, as well as an outline of the major transitions, critiques, and debates that have emerged in the evolution of analytical psychology. Similarities and differences between analytical psychology and other psychoanalytic orientations are also identified. This approach allows those who already have familiarity with the Jungian model to expand their understanding, while also providing an accessible map of the field to those with limited exposure to these concepts.
Psychoanalysts, therapists, students, and instructors of all levels of experience will benefit from this unique introduction to the Jungian model of psychoanalysis.
Reviews and Endorsements
This book brilliantly outlines and integrates a breadth of understanding of Jung's depth psychology in concert with contemporary psychoanalytic theory and practice. A much needed and timely opus, this volume is a feast of psychoanalytic knowledge punctuated with moving personal clinical experience and wisdom. A gem for Jungians and all those devoted to psyche.
Ronnie Landau, Jungian psychoanalyst, President CNASJA, past-President Philadelphia Association of Jungian Analysts

This volume, in the series Routledge Introductions to Contemporary Psychoanalysis, gives a brilliant introduction to the classical concepts in Jungian psychoanalysis while at the same time integrating important debates in the field of analytical psychology as well as linking to concepts from other psychoanalytic perspectives. I find the book most inspiring, and I highly recommend it for all those looking for an excellent contemporary introduction to Jungian psychoanalysis.
Misser Berg, Jungian analyst, Denmark, President of the International Association for Analytical Psychology

A welcome introduction to the richness and significance of Jungian thought. Especially welcome at this time, as Jung's vision of psychic reality delineates important components of world political impasse as well as depths of group and individual psychology. The author opens flexible dynamic currents between therapy schools enhancing what therapeutic communities can offer. Jung has been a generative background presence in the therapy field and Mark Winborn's foreground presentation enhances access, knowledge, and growth of experience.
Michael Eigen, PhD, psychoanalyst and author of Contact with the Depths, The Challenge of Being Human, Faith and The Birth of Experience

The development of dialogue between analytical psychology and contemporary psychoanalysis is essential for a deeper understanding of the multidimensional picture of the unconscious. Mark Winborn's book is an excellent contribution to the development of a poly-theoretical perspective for exploring the complexity of the psyche's manifestations and to the understanding of the specificity of the Jungian approach.
Gražina Gudaitė, PhD, Professor at Vilnius University, Lithuania, Vice-President of the International Association for Analytical Psychology, and Editor of Exploring Core Competencies in Jungian Psychoanalysis: Research, Practice and Training
Table of Contents

Introduction
1. A Brief History of Analytical Psychology
2. Aims and Attitudes in Jungian Psychoanalysis
3. Structure and Stratification of the Psyche: Archetypes and the Collective Unconscious
4. Jungian Complex Theory
5. Jungian Perspectives on Dreams
6. Other Key Concepts in Jungian Psychoanalysis: Processes, States, and Energy
7. Jungian Perspectives on Defenses and Psychopathology
8. Technique in Jungian Psychoanalysis
9. An Overview of Jungian Psychoanalytic Training
10. Reflections from My Practice as a Jungian Psychoanalyst
About the Author(s)
Mark Winborn (PhD, NCPsyA) is a Jungian psychoanalyst/clinical psychologist. He is a training/supervising analyst of the Inter-Regional Society of Jungian Analysts and the C.G. Jung Institute of Zurich. He is the author of Interpretation in Jungian Analysis: Art and Technique and Beyond Persona: On Individuation and Beginnings with Jungian Analysts (with Lavinia Țânculescu-Popa), as well as two additional books.
You may also like