Introduction to the Reading of Lacan: The Unconscious Structured Like a Language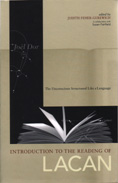 Book Details
Publisher : The Other Press
Published : January 1996
Cover : Paperback
Category :
Lacanian Psychoanalysis
Catalogue No : 2503
ISBN 13 : 9781892746047
ISBN 10 : 1892746042
Our Customers Average Rating
Read all reviews (1)





Seeks to make Lacan's work comprehensible to both clinicians wanting to use Lacanian theory in their work, and also scholars in the various human sciences upon which Lacan's work draws. It emphasizes the links between linguistics theory and structuralism.
Reviews and Endorsements
A major and long overdue addition to the American/English psychoanalytic literature . . . written specifically for clinicians, by a clinician . . . All major concepts-among them the mirror stage, the Name-of-the-Father, metaphor and metonymy, the phallus, the foreclosure of the subject-are developed and discussed in depth.
-Nicholas Kouretas, M.D., Harvard Medical School
Customer Reviews
Our customers have given this title an average rating of 1 out of 5 from 1 review(s), add your own review for this title.
Michael Kulyk on 23/12/2014 23:37:05





(1 out of 5)
This book has a number of rave reviews claiming that it is user friendly and highly accessible. I disagree entirely. I'm familiar with Lacanian texts by Bruce Fink, Darian Leader, Lionel Bailly, and Danny Norbus and found them to be perfectly clear. But Dor's book completely takes the biscuit. I found the explanations in it veering between the insufficient and the incomprehensible.
My experience of reading this book was a combination of confusion, exasperation and puzzlement at how it ever got the wonderful reviews that it did.
I recommend Lionel Bailly's book Lacan: A beginner's guide instead of this awfully written book. Bailly is able to describe the process of metaphor, metonymy and synechdote in relation to the mechanisms of condensation and displacement and the development of the Lacanian unconscious in a very clear and accessible manner.
You may also like