Introduction to Coaching Psychology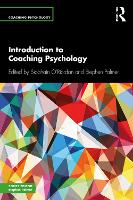 Book Details
Publisher : Routledge
Published : April 2021
Cover : Paperback
Pages : 226
Category :
Coaching
Catalogue No : 95582
ISBN 13 : 9780415789080
ISBN 10 : 9780415789
Also by Stephen Palmer
This collection featuring chapters by leading international practitioners will offer an introduction to coaching psychology for those new to it, including students, trainees, psychologists, and coaches.
Introduction to Coaching Psychology covers key topics, including the background and development of coaching psychology, the coach-coachee relationship, coaching psychology approaches and models, and themes such as assessment, contracting, and the setup in coaching psychology practice. Applications in coaching psychology are considered, including a look at particular coaching psychology specialisms and interventions, as well as discussions about working in organisations, working with young people, and life and personal coaching. Professional practice issues, such as boundaries and best practice, and coaching and diversity, are also explored. Furthermore, a review of coaching psychology research is presented. The book also offers a rich collection of case studies to illustrate the practice of coaching psychology in a real-world setting and concludes with a consideration of the future of the field.
This timely and accessible book will be essential reading for anyone new to the field, as well as coaches, psychologists, and counsellors interested in the theory, research, and practice of coaching psychology.
Reviews and Endorsements
"When Dr Siobhain O'Riordan & Professor Stephen Palmer come together to edit a book, all coaching psychologists have much to gain! Introduction to Coaching Psychology is a superb read for all wanting to translate science to practice. Whether you are reading this book to become a better coach or for training new coaches, this is a mustread book in the field of coaching psychology." - Kimberly Allen, PhD, BCC, CFLE, Associate Director of Academic Programs, CALS, North Carolina State University, USA; Chair, Family Life Coaching Association; author, Theory, Research, and Practical Guidelines for Family Life Coaching.


"Introduction to Coaching Psychology nicely provides a comprehensive synthesis of the basics and last advancements of this field. The editors of this book are the founders of this domain and they have done a tremendous work in bringing together great contents and best experts in this field. This book is a must read for all psychologists and coaches interested in the theory, research and practice of coaching psychology." - Oana A. David, Ph.D., Associate Professor Habil, Department of Clinical Psychology and Psychotherapy, Babes-Bolyai University Cluj-Napoca, Romania.


"Simply the right book at the right time. Coaching psychology can make a valuable contribution in this delicate phase of profound changes in individuals, communities, organizations, countries and economic, social and political patterns of development. Now, I have an introductory book to recommend to Italian psychologists and coaches newer to the field who want to invest in quality coaching and develop a sturdy coaching capability anchored to the theory, research and practice of coaching psychology." - Silvana Dini, co-founder & Steering Committee member of SCP Italy; ISCP Honorary Vice President; Coaching Psychologist (FISCPAccred); Coaching Supervisor (ISCP Accred); Management Consultant.


"Routledge's Coaching Psychology book series has been an invaluable resource and a great example of an academic-practitioner approach in the fields of coaching and coaching psychology. Now it seems to be the time to look back and offer an overview of the field, starting with the development of coaching and coaching psychology, key approaches and models, applications and professional practice issues, as well as offer a look into the future of coaching. With its 14 chapters and an impressive line-up of contributors, Introduction to Coaching Psychology provides this systematic overview for a wide audience interested in one of the most exciting areas of contemporary psychology." - Jelena Pavlovic, PhD, Assistant Professor of Organizational Development and Change; founder of Koucing Centar, Serbia.


"I highly recommend this book, because it is just what coaches, coaching psychologists and junior psychologists interested in coaching psychology were waiting for on account of its contents, structure and, especially, its accuracy. It offers a global vision of the elements that are involved and determines the best practices in coaching psychology for example: approaches and models, applications, research, case studies, the coach-coachee relationship. I am also reminded of the significant role psychology bodies provide for coaching psychology in the international market as well as for promoting recognition by society in general." - Carmen Santos, President, COPC Coaching Psychology Section; Official Psychology Society of Catalonia, Spain.


About the Editor(s)
Stephen Palmer Ph.D. is Honorary Professor of Psychology at City University, London and Director of the Centre for Stress Management, England.
You may also like