Into the Woods and Out Again: A Memoir of Love, Madness, and Transformation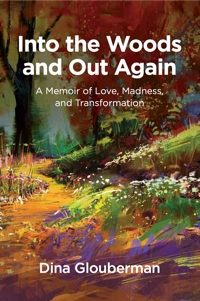 Book Details
Publisher : Sphinx
Published : June 2018
Cover : Paperback
Pages : 320
Category :
Memoir
Catalogue No : 40450
ISBN 13 : 9781912573066
ISBN 10 : 1912573067
Our Customers Average Rating
Read all reviews (1)





1971 was the year Dina Glouberman went mad. Now, for the first time, Dr Dina Glouberman, renowned psychotherapist and author, co-founder of the world–famous Skyros Holidays, creator of Imagework therapy, and author of The Joy of Burnout, writes with candour and humour about a spell in a psychiatric ward. Indeed, she describes it as enlivening and enlightening, a catalyst for her rich and creative life.
This memoir traces the journey from those wild and intense weeks in the Middlesex Hospital through five years of "normal life" and then on to twelve years of extraordinary creativity, when she had two babies, co-founded Skyros Holidays on a Greek island, pioneered her Imagework approach to therapy and personal development, had a life-changing spiritual experience, faced the loss of her father and brother, and wrote her first book. At the end of this book, a new cycle is just beginning, as she burns out, dismantles her marriage and her life, and discovers what is next.
This remarkable memoir is a revealing meditation on the behind-the-scenes world of therapy and psychoanalysis in the 1960s, as well as on marriage, mothering, madness, imagination, aloneness, community and spirituality. Into the Woods and Out Again captures the inner life of a woman who has played a major role in the contemporary holistic and therapeutic world.
Reviews and Endorsements
'This remarkable book, written with candour, humour, and great insight, is a story of hope that will inspire anyone who reads it. I'm going to buy copies for my entire family!'
- Jonny Benjamin MBE, mental health campaigner

'Dina has enabled many people, including me, to validate their lives. She has
the gifts of empathy, wisdom, high intelligence and humour, and this book is never less than seriously entertaining (and entertainingly serious). I hope you enjoy this brilliant and funny book and find something in these pages that reminds you that it is still wonderful to be human.'
- Sue Townsend, author of The Secret Diary of Adrian Mole aged 13 ¾ , from the Preface

'Don't miss this one. It's a deep, luminous and inspiring portrait of the inner and outer journeys of a world-famous psychotherapist and community builder, full of tears and laughter in equal measure. In so many ways, it speaks to and resonates with our troubled times.'
- Professor Andrew Samuels, former Chair of the UK Council for Psychotherapy

'I am learning so much and laughing a lot and crying a lot. How hard it is to admit the weakness and the screw-ups… Dina did it and made it possible for the rest of us. She led the way! Such a valuable and fascinating read. Never a dull moment.'
- Nell Dunn, author of Up the Junction, Poor Cow, and Steaming

'Dina Glouberman has the rare ability to make her demons work for her. On the idyllic Greek island of Skyros she has created a sanctuary unlike any other. This is a remarkable book that may help those of us with our own demons to overcome them.'
- Steven Berkoff, actor and director
About the Author(s)
Dina Glouberman is the visionary co-founder of Skyros Holistic Holidays, in Greece and worldwide, author of the classic books Life Choices, Life Changes, The Joy of Burnout, and You Are What You Imagine, and an international trainer, coach, and psychotherapist. She has been a pioneer for over thirty years in creating, teaching and practising the use of Imagework to tap into the imagination that guides our lives, and make creative life choices and profound life changes.
Customer Reviews
Our customers have given this title an average rating of 5 out of 5 from 1 review(s), add your own review for this title.
Marina Viscardi on 19/06/2018 09:19:07





(5 out of 5)
I love it! I have started reading it, and I'm totally enjoying it! It's wise, witty, full of teachings, and entertaining! It's a page turner, I know I'll read it again with even more attention, now I feel I want to know how the story develops. Such a nice book and so beautifully written!
You may also like