Intimate Relationships in China in the Light of Depth Psychology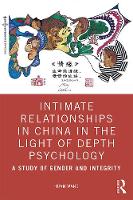 Book Details
Publisher : Routledge
Published : April 2020
Cover : Paperback
Pages : 216
Category :
Jung and Analytical Psychology
Catalogue No : 95170
ISBN 13 : 9780367369286
ISBN 10 : 9780367369
In Intimate Relationships in China in the Light of Depth Psychology: A Study of Gender and Integrity, Huan Wang presents an overview of Jungian ideas as they apply to gender roles and relationships in contemporary Chinese culture. Moving beyond a Western interpretation of key concepts, Wang attempts to understand and deal with the difficulties of contemporary marriages in a rapidly changing society, investigating how young Chinese couples have been affected by traditional values, Westernisation, and the one-child policy. Wang also discusses how depth psychology has developed and been applied in China, highlighting how it differs in Chinese and Western settings and the problems and achievements Chinese people have faced. She concludes that the Chinese psyche today is experiencing a transition from the compliance of collectivism to the awareness of individuation, and that the rediscovery of the notion of integrity will help Chinese therapists to find their way, make young Chinese people independent individuals, and bring a new approach to their marriages.
This is the first time such issues have been profoundly and comprehensively discussed in a Chinese context. It will be an invaluable resource for analytical psychologists, psychotherapists, and marriage and family and couple therapists working in China or with Chinese clients. It will also be of great interest to academics and students of Jungian and post-Jungian studies and to anyone interested in the psyche of contemporary China.
Reviews and Endorsements
'A fascinating and important analysis of intimate relationships in China today. Wang is not only a scholar, but also a psychotherapist with a practice in China. This combination makes for a very unusual stand-out book. In addition, her critique and adaption of Jungian ideas in the Chinse context is also of the greatest importance, given the need to limit the kneejerk, colonial application of Eurocentric ideas in non-Western locations. We clearly learn about love and marriage in China. But then this new knowledge serves as a challenging mirror - even a form of therapy - for our own struggles with intimacy in today's troubled times for the West.' - Andrew Samuels, former professor of Analytical Psychology, University of Essex.

'This book will attract readers who are interested in learning about psychological problems and social issues related to the Chinese marriage and family structure. I am sure it will be very interesting and will attract all readers, both Chinese and Westerners, men and women. I endorse this book highly.' - Shirley Ma, Ph.D, Jungian analyst, and author of Footbinding: A Jungian Engagement with Chinese Culture and Psychology

'Huan Wang's comprehensive and brilliant exploration of how the current revolution in Chinese concepts of masculinity and femininity affects Chinese young people and their marriages is both original and deeply edifying. China underwent unprecedented social engineering both of the shape of the family and of its cultural value systems that form the foundation for intimate relationships. Wang's description of these factors affecting 1/5 of humanity is essential reading for all those who wish to understand the global evolution of modern marriage and the future of Chinese culture.' - David E. Scharff, MD, Chair, International Psychoanalytic Association Committee on Couple and Family Psychoanalysis; Chair, Continuous Training Program in Psychoanalytic Couple and Family Therapy, Beijing; Editor, the journal Psychoanalysis and Psychotherapy in China.

About the Author(s)
Huan Wang, Ph.D., is a researcher and graduate of the Department of Psychosocial and Psychoanalytic Studies at the University of Essex, UK.
You may also like