Internal Landscapes and Foreign Bodies: Eating Disorders and Other Pathologies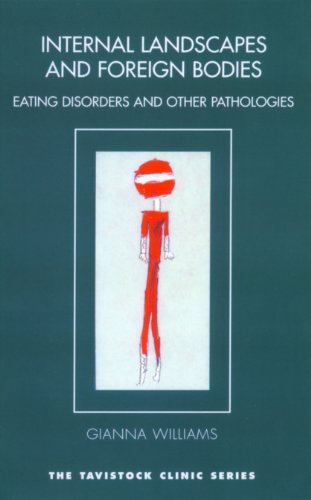 Book Details
Publisher : Routledge
Published : 1997
Cover : Paperback
Pages : 160
Category :
Eating Disorders
Category 2 :
Psychoanalysis
Catalogue No : 4295
ISBN 13 : 9781855759725
ISBN 10 : 1855759721
Also by Gianna Williams

Our Customers Average Rating
Read all reviews (1)





Klein's model of projective and introjective processes and Bion's model of the relationship between container and contained have become increasingly significant in clinical work. In a highly imaginative development of these models of thought, the distinguished clinician Gianna Williams, one of the leading figures in the field, elucidates the psychodynamics of these processes in the context of impairment of dependent relationships and of eating disorders in both men and women. This is a timely and brilliant account of an area of psychopathology that is rapidly growing in significance. The author provides a subtle understanding of some of the obstacles, which stand in the way of patients seeking and receiving therapeutic help
Internal Landscapes and Foreign Bodies explores the problems which arise in forming and sustaining intimate relationships. This book is based on Gianna Williams' work over many years in the Tavistock Clinic, including work in the Eating Disorders Workshop of the Adolescent Department. It examines how dependency is defended against in a variety of ways, which involve refusing to take in good experiences, by keeping some relationships at bay and controlling others. These defences can take the form of eating disorders but also have an important significance in a variety of other pathologies.
Reviews and Endorsements
'I can recommend this book wholeheartedly. It will be of use to experienced practitioners in reflecting on their own work and as a source for training in psychodynamic concepts and psychotherapy.'
- Adrian Sutton, Clinical Child Psychology and Psychiatry

'Williams certainly succeeds in making a major contribution to the sparse psychoanalytic literature on eating disorders, and in putting forward a means by which professionals from various analytic backgrounds might sustain work with the most disturbed young people.'
- Rose Gallagher, The European Journal of Psychotherapy, Counselling & Health
About the Author(s)
Gianna Williams trained as a child and adult therapist and was part of the teaching staff of the Tavistock Clinic in the 1970s and later Consultant Psychotherapist at the Adolescent Department of the Tavistock, where in 1987 she founded the Eating Disorders Workshop. She has taught at the Tavistock Clinic and University of East London, and the Universities of Pisa and Bologna and has founded numerous courses based on the Tavistock model in Italy, France and Latin America.
Customer Reviews
Our customers have given this title an average rating of 4 out of 5 from 1 review(s), add your own review for this title.
Alexander Walker on 08/05/2006





(4 out of 5)
Interesting use of intermediate and transitional objects to explain how the mother-daughter relationship can go wrong and its effects on the child forever needing to seperate themselves and yet at the same time not acknowledge any seperation. The case studies show vividly the difficulties in treating this type of client and the contributions of Winnicotts theory to compliment the Kleinian perspective.
You may also like