Integrating CBT with Experiential Theory and Practice: A Group Therapy Workbook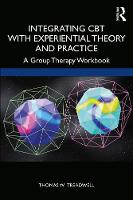 This workbook elucidates the techniques clinicians will encounter using the Cognitive Experiential (psychodrama) Group Therapy (CEGT) model.
This model incorporates cognitive behavioral and psychodrama interventions to help identify and modify negative thinking, behavior, and interpersonal patterns. Beginning with a brief overview of cognitive behavioral therapy (CBT) and psychodrama, the book highlights concepts and techniques that are most relevant to CEGT session content. The second half of the workbook provides a description of CEGT and what group members should expect through their engagement in this therapy. Featured throughout are tables and exercises that create pathways to challenge dysfunctional thinking along with blank worksheets to be used by group members located in the appendices.
Readers will learn techniques to challenge negative thought patterns and increase engagement in positive and success-based experiences through clear guidelines for behavioral interventions to help move individuals from negativity to a more positive life space.
Reviews and Endorsements
"This text is innovative and essential for readers looking to incorporate cognitive therapy and psychodrama elements in group treatment. Treadwell's approach emphasizes humanism, creativity, and positivity in the therapeutic environment. The concise descriptions, case formulations and worksheets will be useful to any mental health professional!" - Aaron T. Beck, MD, professor emeritus of Psychiatry, University of Pennsylvania.

"This workbook provides in depth look at an innovative approach to group therapy, one in which the powerful role-playing processes of psychodrama are coupled with the insight building tools of cognitive behavior therapy to create a positive, healing group process where individual change can take place. Integrating CBT with Experiential Theory and Practice is a brilliant volume jam packed with exceptional tools and acuity. This is a powerful guide for both beginner and experienced clinicians alike." - Jonathan D. Moreno, PhD, David and Lyn Silfen professor, University of Pennsylvania.

"Integrative models produce the highest levels of patient improvement in the small group treatment literature. Strategic integration of two or more efficacious group treatments within a single protocol has proven to be uniquely efficacious treatment for difficult patient populations that present with a complex multi-faceted clinical profile. Treadwell begins with the most efficacious group protocol-cognitive behavioral therapy-and merges it with one of its most engaging-experiential. Integrating CBT with Experiential Theory and Practice begins with an excellent summary of these two well-known group treatments. It then carefully lays out how to integrate key components of each model illustrating case conceptualization and in-session techniques. The reader is provided with clear clinical examples on how to apply the model with both adult and adolescent clients and the worksheets bring to life core treatment components of CBT and psychodrama. A particular strength is application of the Cognitive Experiential Group Therapy (CEGT) model for adolescents and individuals with social anxiety disorder along with expanded appendices filled with worksheets. The model contains empirically supported interventions but has ample flexibility to accommodate varied clinical conditions. I look forward to future research testing the effects of another integrative group model." - Gary Burlingame, PhD, CGP, DFAGPA, professor and chair of Psychology, Brigham Young University.

Integrating CBT with Experiential Theory and Practice: A Group Therapy Workbook is true to title and contains large amounts of useful information for those interested in knowing more about these topics. This text is tight and concise, yet abundant with the basic information necessary to wrap your head around the implementation and leadership of cognitive behavioral therapy. This book is a kit that gives you solid understanding of a range of topics that together form the core of a cognitive experiential orientation and group interventions using Moreno's theories and techniques. There is a lot of wisdom in these chapters and it is presented in a useful and informative voice that many readers will find both encouraging and easily understandable. - Joshua M. Gross, PhD, ABPP, CGP, director of Group Programs, Florida State University.

"Thomas Treadwell et al have assembled a very helpful group therapy workbook combining the skills of Cognitive Behavioral Therapy (CBT) and Experiential (Psychodramatic) Theory (PT) to create Cognitive Psychodrama Group Therapy (CEGT). The handbook is a solid presentation of Cognitive Behavioral Therapy, systematically described in sections related to schemas, core beliefs, cognitive distortions, intermediate beliefs, and automatic thoughts. Graduate students and group members alike will be able to review clear information about CBT and Psychodramatic Therapy, with focus on the latter simply because there is less available in the extant literature regarding the powerful action-oriented psychodrama techniques pioneered by Moreno over sixty years ago. Useful session-by-session outlines are punctuated by glossaries, role-plays, worksheets and charts. Treadwell is an expert at application." - Sally H. Barlow, PhD, ABPP, professor emeritus of Psychology, Clinical Program BYU, adjunct associate professor of Psychiatry School of Medicine, University of Utah SLC UT.

"This workbook is accessible and helpful to both neophyte and advanced group therapy leaders. It takes a practical approach to integrating CBT and psychodrama in group. This offers a data-based methodology that also invites creativity through its experiential focus. The multiple case examples provide the clinician with clear idea of what it looks like in practice. A highly recommended read!" - Leann T. Diederich, PhD, Licensed Psychologist in Private Practice.

This innovative text integrates the theory and practice of Cognitive Behavioral Therapy (CBT) and Psychodrama, creating a new model - Cognitive Experiential Group Therapy (CEGT). CEGT brings together the best of both worlds - the evidence-based, systematic CBT approach offering multiple structured therapeutic instruments and psychodrama's experiential nature which emphasizes action, spontaneity, and creativity. The CEGT model offers a balanced approach of exploring emotions, thoughts, and behaviors through both experiential processes and participant's written self-reported data. Client examples with case conceptualizations are offered throughout the book depicting the CEGT model in action - furthermore, a dozen different worksheets are included, providing readers with practical resources for use in their work. A noteworthy strength of the revised edition is the addition of the CEGT model with adolescents and persons diagnosed with a social anxiety disorder. The authors have successfully integrated elements of theory, practice, and research making this a significant contribution to the literature. The incorporation of CBT with experiential theory and techniques enables action-oriented therapists to assimilate the wisdom from both CBT and psychodrama that is concretized in the CEGT model. This model is a valuable resource for enhancing the clinical practice of group therapy. - Scott Giacomucci, DSW, LCSW, director/founder at the Phoenix Center for Experiential Trauma Therapy.
About the Author(s)
Thomas W. Treadwell, EdD, is a professor of psychology at West Chester University, clinical associate at the Center for Cognitive Therapy at the Perelman School of Medicine at the University of Pennsylvania and editor for The Group Psychologist, Division 49, Society of Group Psychology and Group Psychotherapy, American Psychological Association.
You may also like