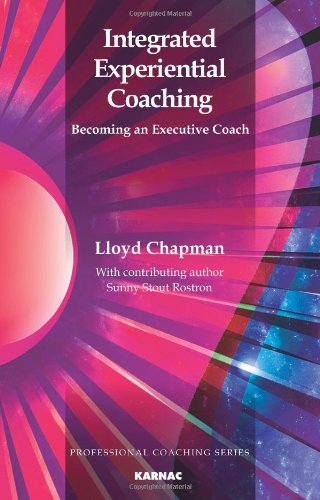 Book Details
Publisher : Routledge
Published : 2010
Cover : Paperback
Pages : 310
Category :
Coaching
Catalogue No : 28812
ISBN 13 : 9781855757394
ISBN 10 : 1855757397
'Coaching is growing across the globe as a viable and useful intervention to help executives deal with the complexity they face day-to-day. In response to this increased demand, many coaches have presented their "model" of coaching to the world of business, and a number of these have made it into print. Few are based on a rigorous development process or have provided the reader with an insight into their development.
We wanted to offer to the readers of our professional coaching series the opportunity to engage with a practitioner who had been through a journey of learning built on their experience, the literature and research.
This book meets the need we identified for a clear and rigorous account by an experienced coach of the development of their model within the scientist-practitioner framework... For our readers we believe it will provide inspiration to continue with your own journeys, and a wealth of ideas you can experiment with and apply to the benefit of your clients.'
- From the Foreword by David Lane
Reviews and Endorsements
Contributing author: Sunny Stout Rostron.

'This book provides an excellent contribution to the coaching literature. It is written in an engaging style and yet provides rigorous insights into the development of an executive coach. It is soundly researched and applies important concepts from Kolb and Wilber, to highlight a few, and integrates them into a "shared and structured process". For me, this reflects something of the complex and diverse nature of coaching. Lloyd needs to be congratulated for this engaging book and I recommend it to all those who are interested in coaching in whatever context.'
- Bob Garvey, Professor of Mentoring and Coaching, The Coaching and Mentoring Research Unit, Sheffield Business School

'Coaching will owe its next evolution to Lloyd Chapman, in that he has taken executive coaching to the next level by integrating complex theories and philosophies, which in themselves offer partial elements of a model. By developing a cohesive meaningful model in support of executive leadership development, he has managed to overcome what business generally perceives to be a somewhat vague and limited offering.'
- Khatija Saley, Head, Coaching and Mentoring, Standard Bank

'Chapman's clear review and scholarly integration of the works of Kolb and Wilber in the Integrated Coaching Model offers a rich and robust theory of human development to guide coaching practice.'
- David Kolb, Professor of Organizational Behavior at the Weatherhead School of Management, Case Western Reserve University, Cleveland, Ohio, USA

'In this book, Dr Chapman has re-worked the academic material into a highly effective resource for the executive coach. The philosophical and theoretical framework is informative without being too academic in nature. The choice of models (Wilber and Kolb) is done in a responsible manner and the integration of the two models commendable. The research methodology is clear and gives those readers interested in further research many examples of a good research plan and execution. I recommend that this book be distributed widely in all countries where executive coaching is presently blooming.'
- Professor Frans Cilliers, Department of Industrial & Organisational Psychology, University of South Africa

'As executive coaching reaches academic maturity, it is transforming itself from a set of tools, to an area with solid scientific roots worthy of being called an academic discipline adhering to all the rules of scientific inquiry. Lloyd Chapman's book unifies the science and the practice of coaching. As such it needs to be read by all who, for whatever reason, have an academic interest in executive coaching.'
- Eon Smit, Professor and Director, University of Stellenbosch Business School

Selection from the Contents

Reflections on My Personal Journey
The Meta-Philosophical Framework
The Methodological Framework
The Business Framework
Applying and Researching the Integrated Experiential Coaching Model
The Integrated Experiential Coaching Model in a Team Context
The Impact of Stress on Learning
Personal Reflections and Implications of the Coaching Journey

About the Author(s)
Lloyd Chapman completed his doctorate at Middlesex University and the National Centre for Work-based Learning, in the UK. He is an executive coach and organizational fitness trainer with twenty-two years business experience. He is a founding member of the Manthano Institute of Learning (Pty) Ltd and is member of COMENSA (Coaching and Mentoring Association of South Africa).
You may also like