Innovations in NLP: Volume 1: Innovations for Challenging Times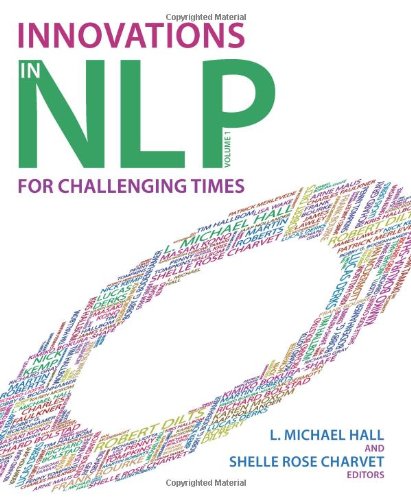 Book Details
Publisher : Crown House Publishing
Published : 2011
Cover : Paperback
Pages : 300
Category :
Neuro Linguistic Programming
Catalogue No : 33265
ISBN 13 : 9781845907341
ISBN 10 : 9781845907
Also by L. Michael Hall
This long awaited book brings together some of the most recent innovations and applications of the traditional NLP model. Each chapter describes a new model or application and contains step by step instructions or a case study on how and when to apply it. For NLP Practitioners it provides an outstanding collection of new tools and ideas to take their practice forward.
Contributors include: Shelle Rose Charvet -LAB Profile: Decoding Language and Behaviour to Improve Communication Ian McDermott -NLP Coaching: How to Develop a Coaching Mindset L Michael Hall -Meta States: Modelling Self-Reflexive Consciousness John McWhirter -Behavioural Remodelling: Advancing NLP s Linguistic Model Charles Faulkner -Modeling Market Wizards: Revealing the Methods of Outstanding Traders and Investors Nick Kemp -Provocative Change Works: Improvisation and Humour in Therapy and Coaching Bob Bodenhamer -What Triggers Stuttering?: A Model for Achieving Fluency Robert Dilts -Success Factor Modelling: The Secrets of Entrepreneurial Leadership Martin Roberts -The Well Formed Problem: A New Model for Managing Change in Business.
The book also includes chapters on some of the most innovative IT projects and communities where developments and advances continue to be made, including the Clean Language community and the NLP Research and Recognition Project. More than anything, this book represents a collaboration of some of the best innovators in the field of NLP to push the boundaries of the traditional NLP model and create some solutions for the problems created by the increasingly troubled world in which we live.
About the Editor(s)
Michael Hall has authored many ground-breaking works on neuro-linguistics, communication, emotions and motivation. One of the foremost authors on the NLP scene, he is dedicated to taking its techniques into new and exciting realms of therapy and personal development. He currently works as a psychotherapist and trainer in Grand Junction, Colorado, and is an internationally renowned trainer.
You may also like