Infant-Parent Psychotherapy: A Handbook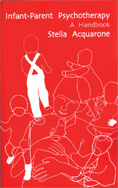 Also by Stella Acquarone

This is a comprehensive handbook, full of vital information on the theory and practice of infant-parent psychotherapy, that will revolutionise the treatment of babies. It is essential reading for all professionals working with children.
This volume is based upon the author's observations and treatment of over 3,500 parents and their infants throughout several decades. With its roots in the major fields of psychology, such as developmental psychology and psychoanalysis of early life, she has created an exciting and ground-breaking new field of psychoanalytic psychotherapy - infant-parent psychotherapy. It focuses on pre-verbal communication with babies, using the simple tools of experience and observation.
In the first chapters, the history and background of infant-parent psychotherapy are laid out. Then, its application to understanding babies is detailed, demonstrating the psychodynamic approach in theory and in practice. Once the basics are explained, the author presents a step-by-step guide on how to assess, diagnose and treat babies, including case studies for practical illustration. She also provides separate chapters on special needs babies and troubled mothers, again using case studies for examples. Quick reference tables, maps, matrices and indexes are all provided.
About the Author(s)
Stella Acquarone, PhD, is the Director of the Parent-Infant Clinic of the School of Infant Mental Health in London and its branch in the USA. She is a practising adult and child psychotherapist and has worked in the NHS for thirty-one years. She is a member of the British Psychological Society, the Association of Child Psychotherapists, and the London Centre for Psychotherapy. She has pioneered studies in early infant clinical research and development, and lectures internationally on all aspects of infant-parent development and psychotherapy. She has written extensively in professional papers, journals and chapters in books, and has taught infant observational studies and new clinical strategies in working with disturbed children.
You may also like