Improving Outcomes and Preventing Relapse in Cognitive-Behavioral Therapy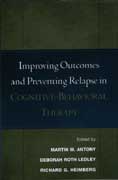 Also by Martin M. Antony

Also by Richard G. Heimberg Also by Deborah R. Ledley

Organized around specific psychological disorders, this important work brings together leading scientist-practitioners to present strategies for maximizing the benefits of cognitive-behavioral therapy (CBT). Described are effective ways not only to overcome frequently encountered treatment obstacles, but also to help people stay well once therapy has ended. Tightly edited chapters provide clear recommendations for adapting standard treatment protocols for tough-to-treat patients; enhancing motivation and homework compliance; dealing with common comorbidities; complementing CBT with other approaches; and targeting the factors that contribute to relapse and recurrence.
About the Editor(s)
Martin M. Antony, PhD, President-Elect of the Canadian Psychological Association, is Professor and Director of Graduate Training in the Department of Psychology at Ryerson University in Toronto. He is also Director of Research at the Anxiety Treatment and Research Centre, St. Joseph's Healthcare, Hamilton, Ontario. An award-winning researcher, Dr. Antony is the coauthor of When Perfect Isn't Good Enough, 10 Simple Solutions to Panic and numerous other books. His research, writing, and clinical practice focus on cognitive-behavioral therapy and the treatment of anxiety disorders. He has been widely quoted in the U.S. and Canadian media.
More titles by Martin M. Antony
Richard G. Heimberg, PhD, is the Thaddeus L. Bolton Professor of Psychology and Director of the Adult Anxiety Clinic of Temple at Temple University. He is past president of the Association for Behavioral and Cognitive Therapies (ABCT) and the Society for a Science of Clinical Psychology (SSCP) and former editor of the journal Behavior Therapy. Well known for his efforts to develop and evaluate cognitive-behavioral treatments for social anxiety and other anxiety disorders, Dr. Heimberg has authored several books and 450 articles and chapters. As an educator and mentor of clinical psychology doctoral students, he has received awards from ABCT, SSCP, the Society of Clinical Psychology, and the American Psychological Association of Graduate Students.
You may also like