Identity in Adolescence: Fourth edition: The Balance between Self and Other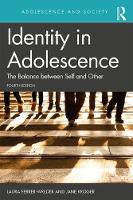 Also by Jane Kroger
This fully revised fourth edition of Identity in Adolescence: The Balance Between Self and Other presents four theoretical perspectives on identity development during adolescence and young adulthood and their practical implications for intervention. Kroger and Ferrer-Wreder consider adolescent identity development as the unique intersection of social and cultural forces in combination with individual factors that each theoretical model stresses in attempting to understand the identity formation process for contemporary adolescents.
Identity in Adolescence addresses the complex question of how adolescent identity forms and develops during adolescence and young adulthood and serves as the foundation for entering adult life. The book is unique in its presentation of four selected models that address this process, along with cutting-edge research and the implications that each of these models hold for practical interventions. This new edition has comprehensively revised, with five completely new chapters and three that have been extensively updated. New special topics are also addressed, including ethnic, sexual, and gender identity development, the role of technology in adolescent identity development, and ongoing identity development beyond adolescence.
The book is essential reading for advanced undergraduate and graduate students studying adolescent development, self and social identity within developmental psychology, social psychology and clinical psychology, as well as practitioners in the fields of child welfare and mental health services, social work, youth and community work and counselling.
You may also like