Hypnosis for Smoking Cessation: An NLP and Hypnotherapy Practitioner's Manual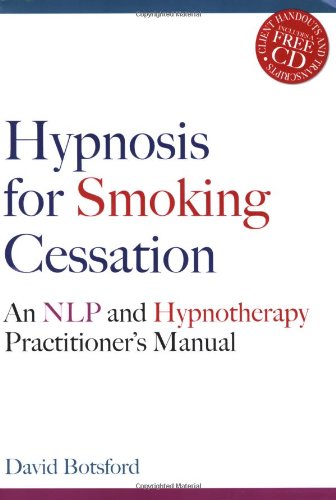 Book Details
Publisher : Crown House Publishing
Published : 2007
Cover : Paperback
Pages : 288
Category :
Neuro Linguistic Programming
Category 2 :
Hypnotherapy
Catalogue No : 36582
ISBN 13 : 9781845900748
ISBN 10 : 184590074X
This is the first book written for Hypnotherapy and NLP Practitioners that is devoted entirely to the use of these techniques in enabling smokers to quit their habit. It has been written by a Harley Street hypnotherapist with over 12 years experience in helping clients to stop smoking in one-to-one sessions. The author provides an overview of the nature of hypnotic transformation and the psychology of the smoker and goes on to show why it is not enough to enable the smoker to stop during the sessions - the therapist must also prepare the client for every situation in the real world so as to stay a non-smoker for life.
Combining Ericksonian hypnotherapy and NLP with techniques from cognitive therapy, Yoga and stress management, the book shows how to deal with every possible situation in smoking cessation. It discusses how to influence the client even before the session, how to deal with the client on arrival and how to teach self-hypnosis and other techniques which will keep the client a non-smoker after the session. Finally it provides a practical plan for marketing a hypnotherapy smoking cessation service at low cost but high impact. This book is an essential addition to every hypnotherapist's library - and one which readers will refer to again and again in their therapeutic work with smokers.
About the Author(s)
David Botsford trained as a hypnotherapist in 1993. He has produced a series of Hypnosis CD sets and has been training hypnotherapists in smoking cessation and marketing since 2005.
You may also like