How Responsive Should We Be?: Progress in Self Psychology: Vol. 16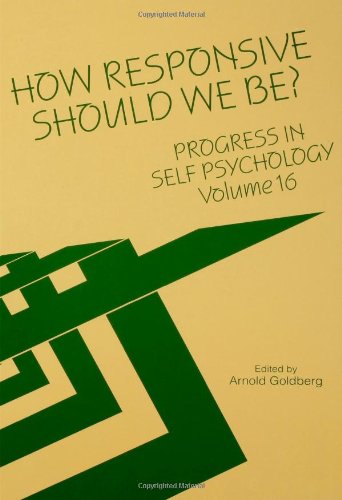 Book Details
Publisher : Analytic Press
Published : 2000
Cover : Hardback
Pages : 408
Category :
Psychoanalysis
Catalogue No : 15755
ISBN 13 : 9780881633276
ISBN 10 : 0881633275
Also by Arnold Goldberg
Volume 16 of Progress in Self Psychology, How Responsive Should We Be, illuminates the continuing tension between Kohut's emphasis on the patient's subjective experience and the post-Kohutian intersubjectivists' concern with the therapist's own subjectivity by focusing on issues of therapeutic posture and degree of therapist activity.
Teicholz provides an integrative context for examining this tension by discussing affect as the common denominator underlying the analyst's empathy, subjectivity, and authenticity. Responses to the tension encompass the stance of intersubjective contextualism, advocacy of "active responsiveness," and emphasis on the thorough-going bidirectionality of the analytic endeavor. Balancing these perspectives are a reprise on Kohut's concept of prolonged empathic immersion and a recasting of the issue of closeness and distance in the analytic relationship in terms of analysis of "the tie to the negative selfobject."
Additional clinical contributions examine severe bulimia and suicidal rage as attempts at self-state regulation and address the self-reparative functions that inhere in the act of dreaming. Like previous volumes in the series, volume 16 demonstrates the applicability of self psychology to nonanalytic treatment modalities and clinical populations. Here, self psychology is brought to bear on psychotherapy with placed children, on work with adults with nonverbal learning disabilities, and on brief therapy. Rector's examination of twinship and religious experience, Hagman's elucidation of the creative process, and Siegel and Topel's experiment with supervision via the internet exemplify the ever-expanding explanatory range of self-psychological insights.
About the Editor(s)
Arnold Goldberg, M.D., is Director of The Chicago Institute for Psychoanalysis and Professor of Psychiatry at Rush-Presbyterian-St. Luke's Medical Center in Chicago. He is the author of A Fresh Look at Psychoanalysis (1988) and is the editor of the Progress in Self Psychology series, both published by the Analytic Press.
You may also like