How Psychotherapists Live: The Personal Self and Private Life of Professional Healers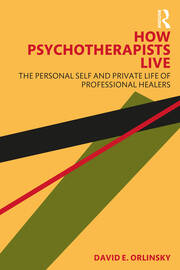 Book Details
Publisher : Routledge
Published : May 2022
Cover : Paperback
Pages : 362
Category :
Individual Psychotherapy
Catalogue No : 96279
ISBN 13 : 9781032108797
ISBN 10 : 1032108797
Also by David E. Orlinsky
How Psychotherapists Live is a landmark study of thousands of mental health practitioners worldwide. It significantly advances our understanding of psychotherapists and counselors by focusing on their individual qualities and lives, revealing the many ways they differ as persons and how those differences shape their experiences of therapeutic work.
Topics include the therapist's personal self, private life, individual beliefs, quality of life, childhood family experiences, and personal psychotherapy. Based on thirty years of research, the book is written to interest clinical practitioners while also providing researchers with a rich array of data.
Clinical psychologists, psychiatrists, clinical social workers, and counselors can easily compare their own experiences with the thousands of therapists in the study by reflecting on typologies constructed from research findings. The book will also be a valuable resource for researchers studying the sources of variation in therapists' effectiveness.
Reviews and Endorsements
"Few if any have given as much to psychotherapy research as David Orlinsky, and no one has given psychotherapists more research on who they are as professionals. In this new and deeply meaningful book, Dr. Orlinsky shows how psychotherapists live as persons and how that affects their work. Empirically and clinically this is an unparalleled source of knowledge and wisdom." - Louis Castonguay, PhD, liberal arts professor of psychology, Pennsylvania State University, USA.

"For too long, psychotherapists have been portrayed impersonally as interchangeable parts of their treatment technologies. Based on extensive research, this book debunks that myth, presenting a multidimensional picture of therapists as persons well beyond paint-by-number illustrations and demonstrating what may really account for the variation of outcomes due to therapist effects." - Barry L. Duncan, PsyD, author of On Becoming a Better Therapist and CEO of Better Outcomes Now , USA.

"This monumental and authoritative work on the person of the psychotherapist by David Orlinsky, one of the parents of psychotherapy research, reads like a research-informed detective story-exploring our inner selves, intimate relationships, individual beliefs, childhood family experiences, personal therapies, and their impact on our satisfactions and stresses in therapeutic work." - John C. Norcross, PhD, ABPP, distinguished professor and chair of psychology, University of Scranton, Pennsylvania, USA.

"David Orlinsky pioneered a field of psychotherapy research of crucial importance by examining the characteristics and development of psychotherapists. Based on solid empirical evidence and a huge international sample, his new book will help psychotherapists reflect on their self and life, to further clarify and improve the role of the therapist in treatment." - Bernhard M. Strauss, PhD, professor of psychotherapy and medical psychology, Friedrich Schiller University Jena, Germany.
About the Author(s)
David Orlinsky, professor emeritus at the University of Chicago, has made significant contributions to psychotherapy research for more than fifty years. He is the author of many articles and books and has received the International Sigmund Freud Award for Psychotherapy of the City of Vienna from the World Council for Psychotherapy, the Senior Research Career Award and the Lifetime Contribution Award of the Society for Psychotherapy Research, the Distinguished Psychologist Award of the American Psychological Association (Division 29), the Illinois Psychological Association Distinguished Contributions to the Profession of Psychology Award, and an honorary doctorate from the University of Oslo.
You may also like