Handbook of Personality: Theory and Research: Fourth Edition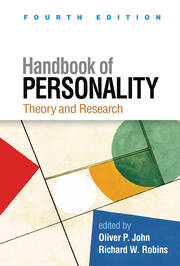 Book Details
Publisher : Guilford Press
Published : August 2022
Cover : Paperback
Pages : 942
Category :
Clinical Psychology
Catalogue No : 96714
ISBN 13 : 9781462550487
ISBN 10 : 9781462550
Now in a revised and expanded fourth edition, this definitive reference and text has more than 50% new material, reflecting a decade of theoretical and empirical advances. Prominent researchers describe major theories and review cutting-edge findings. The volume explores how personality emerges from and interacts with biological, developmental, cognitive, affective, and social processes, and the implications for well-being and health. Innovative research programs and methods are presented throughout. The concluding section showcases emerging issues and new directions in the field.
New to This Edition
*Expanded coverage of personality development, with chapters on the overall life course, middle childhood, adolescence, and early adulthood.
*Three new chapters on affective processes, plus chapters on neurobiology, achievement motivation, cognitive approaches, narcissism, and other new topics.
*Section on cutting-edge issues: personality interventions, personality manifestations in everyday life, geographical variation in personality, self-knowledge, and the links between personality and economics.
*Added breadth and accessibility--42 more concise chapters, compared to 32 in the prior edition.
Reviews and Endorsements
"The study of personality is the study of the person in context--and requires psychologists to integrate the contributions of disciplines as disparate as genetics, biology, mathematics, sociology, and economics. This handbook is a powerful example of the breadth of the field. The contributions of over 75 leading scholars are organized into one volume. This fourth edition will be required reading for graduate students and will help scholars continue to integrate the diverse approaches to personality." - William Revelle, PhD, Department of Psychology, Northwestern University.

"This fourth edition is a tour de force! Chapters cover the gamut of contemporary personality theory and research, ranging from biological to cultural approaches. Several chapters unpack in great detail the biological underpinnings of personality. A particularly great addition to this volume is Carol Dweck's chapter on her integrative theory of motivation, personality, and development. The writing is engaging and clear, at a level of detail suitable for graduate students and advanced undergraduates; instructors can pick and choose chapters and the order in which they appear in a syllabus. This is a terrific resource for any psychologist's bookshelf." - Jennifer Crocker, PhD, Ohio Eminent Scholar in Social Psychology, The Ohio State University.

"The contributors to this book are a stellar group of researchers and scholars. As a developmental scientist, I am particularly interested in the numerous chapters in the fourth edition that touch on developmental issues from a personality psychology perspective. I am also excited to see the fundamental topics of emotion and self-regulation addressed from so many different perspectives. The knowledgeable and nuanced discussions of important topics will provide graduate students, researchers, and instructors with a valuable overview of the field. This is an excellent volume for graduate classes on personality." - Nancy Eisenberg, PhD, Regents' Professor of Psychology, Arizona State University.
You may also like