Handbook of Narrative Psychotherapy for Children, Adults, and Families: Theory and Practice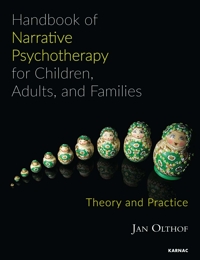 The Handbook Narrative Psychotherapy for Children, Adults and Families combines philosophical, scientific and theoretical insights in the field of narrative psychotherapy and links them to sources of inspiration such as poetry, film, literature and art under the common denominator 'narrative thinking'.
Sections on theoretical issues alternate with a large number of case histories drawn from different therapeutic contexts. The reader can browse at will through the many examples of therapeutic sessions, in some cases including literal transcriptions, in which narrativity in all its forms is the point of departure. What language does the body speak? What messages do seemingly random slips of the tongue convey? How can a painting help a client to find words for his or her story?
The discussion of the 'logic of abduction' demonstrates the importance of metaphor, and special attention is given to the processes of creating a therapeutic context and defining a therapeutic framework.
The diversity of insights in this book will be of interest to the experienced psychotherapist as well as to therapists at the beginning of their careers, who will undoubtedly derive inspiration from the case histories.
Reviews and Endorsements
'Weaving together many decades of highly reflective lived clinical experience and the most innovative and ground-breaking traditions in our field, this handbook soars. In this day and age, when the commodification of therapy runs the risk of depriving it of real human encounter, Jan Olthof brings back the person of the therapist – the therapist whose expertise grows as he learns to be more comfortable in his position of thoughtful uncertainty, and whose mind allows itself to search unexplored avenues in ways that are both creative and disciplined. Reading the Handbook has felt like coming home – and learning afresh.'
- Dr Peter Jakob, consultant clinical psychologist and systemic family therapist, and director of Partnership Projects

'This book shows us the close relationship between psychotherapeutic and literary or artistic ways of thinking and acting. It is an antidote against the technical emphases that threaten to dry up the profession. Together with Jan Olthof, we make a nomadic excursion into the fantastic world of our clients and the often no less fantastic world of our therapeutic reactions. I recommend it to all of us who feel the need to find an oasis in our work.'
- Professor Haim Omer, psychotherapist, academic researcher and teacher, originator and developer of the New Authority paradigm, and tenured professor of Psychology at Tel Aviv University

'Jan Olthof's handbook is a reference companion for the therapy artisan wandering the uncharted, ever-shifting landscapes of the inner and interpersonal. In this framework, like the author's famous Russian dolls, nest many unexpected, delightful and thought-provoking references to philosophy, narrative therapy, poetry, literature, popular culture and the plastic arts. The book's epilogue, like the smallest and innermost matryoshka, strikes the deepest chord by invoking the question: what can psychotherapy mean in our post- post-modern "world of foam"? I think this book is a possible answer.'
- Dan Dolberger, psychologist and family and couple therapist specialising in NVR-oriented systemic interventions, and director of the Tel Aviv Center for Non-Violent Resistance Psychology

'This book is a blueprint not just for narrative psychotherapy, but for the entire field of psychotherapy. Zigzagging through a range of nomadic landscapes, Jan Olthof skilfully outlines the true nature of the human being, Homo fabulans. He has succeeded in providing the reader with new eyes. All those who take a serious interest in narrative approaches to therapy will find this book a true delight to read and will undoubtedly take it to heart.'
- Professor Col. Eric Vermetten, psychiatrist and professor at Leiden University Medical Centre, member of Arq Psychotrauma research group, head of research at Dutch Military Mental Health Care and adjunct professor at New York University School of Medicine

'With just the right blend of theory, philosophy and practice, this handbook full of stories and therapeutic experiences is an example of "craft in action". Jan Olthof invites the reader to embrace uncertainty and join him in a nomadic journey of the not yet known. A space where author and reader will encounter the excitement and the adventures of being a narrative therapist in the making.'
- Sylvia London, MA, LMFT, therapist, supervisor, trainer, coach and speaker at Grupo Campos Eliseos, Ciudad de México
About the Author(s)
Jan Olthof has worked as a psychotherapist since 1984. In addition to his own private practice, he also provides diverse other services. He teaches, trains and supervises young colleagues newly active in the field of systems therapy, and is registered in this capacity with the Dutch Society of Relationship and Family Therapy (NVGR). He has also been attached to the family psychiatry department of Yulius institution for mental health care in Rotterdam as a systems consultant since 1985. Jan Olthof founded the School for Systemic Training at Bunde in the Netherlands.
You may also like