From Ultrasound to Army: The Unconscious Trajectories of Masculinity in Israel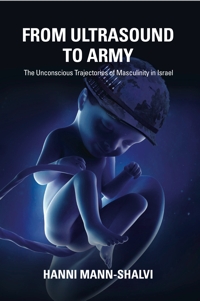 Book Details
Publisher : Karnac Books
Published : July 2016
Cover : Paperback
Pages : 304
Category :
Psychoanalysis
Category 2 :
Psychotherapy and Politics
Catalogue No : 34854
ISBN 13 : 9781782200819
ISBN 10 : 1782200819
Daring to gaze directly into the core of parenting in Israel, this book presents, for the first time, a study that focuses on the conscious and unconscious aspects of the Israeli parenting experience when raising sons is overshadowed by the knowledge that at 18 years old, these sons will be drafted into inherently life-endangering compulsory military service.
Exposing the emotional drama, hidden from open view until now, and against a background of a uniquely intertwined Jewish and Israeli history, Hanni Mann-Shalvi explores the dynamics that shape Israeli parenting norms, and simultaneously impact the couple relationship as sons grow up and develop their masculine Israeli identity. From Ultrasound to Army delves into the developmental processes experienced by the young Israeli male up until military recruitment, his image as a cadet and later as a commando, his changing relationship with his parents, and his experiences on being discharged, all of which affect his development from boy to man.
Hanni Mann-Shalvi offers a highly important, complex and in-depth observation of the individual-social psychic fabric which holds significant implications for social life and male-female relationships in Israel and consequently impacts social relationships at the personal, familial, national and international levels.
Reviews and Endorsements
'Deeply humane and emotionally poignant, Hanni Mann-Shalvi's book is a document of rare value. It demonstrates how unconscious and conscious parental concerns and fantasies in the land of promise and conflict can and do alter the basic core of their male progeny. The book creates an opportunity for reflections in the public arena, and advances the aims of both individual and large-group psychology. A rare treat indeed.'
— Vamik Volkan, MD, emeritus professor of Psychiatry, University of Virginia and author of A Nazi Legacy: Depositing, Transgenerational Transmission, Dissociation, and Remembering Through Action
About the Author(s)
Dr Hanni Mann-Shalvi is a psychoanalyst registered with the Israel Association for Psychoanalysis. She lives and works in Israel, and completed her doctorate at the Hebrew University, Jerusalem. Her main focus is on couples and family psychoanalysis. She is Vice President of the International Association of Couple and Family Psychoanalysis, and the founder and director of the psychoanalytic couple and family centre in Israel.
You may also like