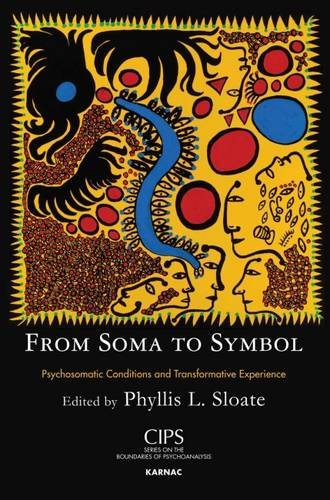 Book Details
Publisher : Routledge
Published : April 2016
Cover : Paperback
Pages : 288
Category :
Psychoanalysis
Catalogue No : 35174
ISBN 13 : 9781782201274
ISBN 10 : 1782201270
This book traces the theoretical history of psychosomatics in psychoanalysis, and with it the ways that psychoanalytically-trained clinicians have tried to understand and treat patients with complex psychosomatic symptoms. It offers a rethinking of the mind-body relationship in psychoanalysis, eschewing past dichotomies between the psychological and the corporeal, and today's either-or distinctions between symbolizing and non-symbolizing patients. Theoretical and clinical issues are considered from a broad and integrative perspective. Psychosomatic patients' best interests are served neither by an indiscriminate embrace of dazzling new findings, nor by discarding established ways of understanding them. This volume exemplifies an approach that takes advantage of the rich history of the past as well as exciting new work in the neurosciences.
The opening historical chapter delineates the evolution of the field of psychoanalytic psychosomatics. Out of the reductionism and divisiveness of the past, through a growing rapprochement between the American and French psychosomatic traditions, to the thoughtful integration of the work of allied disciplines, an emerging international perspective has emerged that has re-energized interest in psychoanalytic psychosomatics and holds much promise for our patients.
This is also a clinician's book, however, aimed at helping psychoanalytic and psychodynamically-oriented clinicians to work more comfortably and productively with psychosomatic patients. The case histories are full of useful ideas about how to engage and maintain these challenging and vulnerable people in treatment. Clinicians will find many imaginative approaches to helping a patient know her own mind (often for the first time), and become capable of genuine aliveness, relatedness, and mutuality. There are also hints for dealing with the intense countertransference almost universal with these patients, which may be the analyst's chief source of understanding when words fail or are absent altogether. In addition, richly detailed discussions suggest how the new theoretical and clinical integration may apply to other patients with impaired symbolizing capacities, greatly extending the book's clinical usefulness.
Reviews and Endorsements
'Phyllis L. Sloate's book is a crucial publication for psychoanalysts at a time when somatic disorders are becoming ever more salient among our patients' complaints. The author prefaces a broad overview of modern psychosomatics rooted in the unity of psyche and soma with a fascinating look back to the very beginnings of the field. Throughout, rich and lively clinical cases illustrate the theoretical developments and encourage us to deepen our thinking about psychosomatic disorders and their treatment.'
- Marilia Aisenstein, training analyst at the Paris Psychoanalytical Society, and coeditor of Psychosomatics Today: A Psychoanalytic Perspective

'Psychoanalysis is being re-energised from work in the neurosciences regarding affect, implicit memory and unrepresented states of mind, and this volume is a significant and timely contribution to this reassessment of the mind–body relationship. The vigour of the contributions in this volume vitalises an aspect of clinical work, psychosomatic phenomena, which has puzzled psychoanalytic clinicians for decades. It also illustrates the invaluable contribution that accompanies open-mindedness to the wide array of viewpoints based on an appreciation of how difference in perspectives can inform rather than divide us in our psychoanalytic explorations.'
- Maxine K. Anderson, MD, training and supervising analyst, Northwestern Psychoanalytic Institute & Society

'Phyllis L. Sloate's brilliant, lucid integration of the history and state of the art thinking about working with psychosomatic patients sets the tone for numerous clinical examples from senior psychoanalysts on the struggle to help these patients find a language for their suffering. It is a book that takes an international perspective with a nuanced understanding that clearly outlines similarities and differences amongst different cultures. Psychoanalytic clinicians will find this an invaluable guide in working with these patients.'
- Fred Busch, PhD, FIPA, author of Creating a Psychoanalytic Mind

'This new volume is a vital contribution to the evolving psychoanalytic literature on psychosomatic disorders. For more than a hundred years, these perplexing conditions have inspired competing theories and approaches that have divided the international psychoanalytic community into isolated and parochial thought collectives. This volume demonstrates that in this new century, even as brain science and allied disciplines mature, even as competing clinical intervention models are introduced, psychoanalysis still has an irreplaceable and invaluable contribution to make to the understanding of mental life and its relationship to bodily experience.'
- Robert L. Pyles, MD, Past-President, American Psychoanalytic Association
About the Editor(s)
Phyllis L. Sloate, PhD, FIPA, is a training and supervising analyst at the Institute for Psychoanalytic Training and Research (IPTAR) and the Contemporary Freudian Society (CFS). She is also faculty and supervising analyst at the Westchester Center for the Study of Psychoanalysis and Psychotherapy (WCSPP) and at the NYU Postdoctoral Program in Psychoanalysis and Psychotherapy. She has served as the Chair of the APA's Psychosomatic Discussion Group since 2006, and leads the New York Psychosomatic Study Group. In 2011 she was invited to present the annual C. Philip Wilson Memorial Lecture at the Psychoanalytic Association of New York (PANY) in appreciation for her contributions to the field of psychosomatics. She has also edited and contributed to a recent volume on psychosomatics for the journal series Psychoanalytic Inquiry, and she is an invited contributor to Graeme Taylor's special issue on psychosomatics for the Journal of the American Academy of Psychoanalysis and Dynamic Psychiatry.
You may also like