From Fiction to Psychoanalysis: Reimagining a Relationship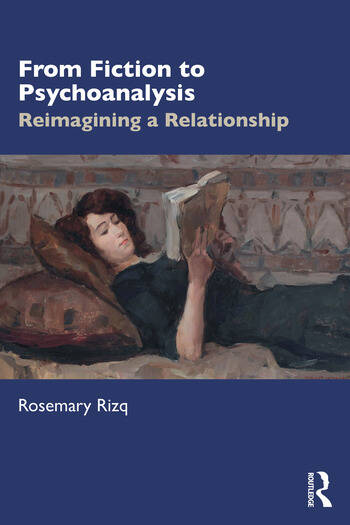 Book Details
Publisher : Routledge
Published : December 2022
Cover : Paperback
Pages : 134
Category :
Psychoanalysis
Catalogue No : 96996
ISBN 13 : 9781032351346
ISBN 10 : 9781032351
How can reading literary fiction shed light on the way we speak ourselves within psychoanalysis? Rather than offering psychoanalytic insights into literature, Rosemary Rizq, a practicing psychologist and psychoanalytic psychotherapist, explores what literary fiction can bring to psychoanalysis.
In this fascinating collection of essays, she draws on stories written by authors ranging from Henry James to Kazuo Ishiguro and Colm Tóibín. By investigating the possibilities for 'fruitful encounter and dynamic exchange' between psychoanalysis and literature, Rizq sets out to offer a fresh perspective on theoretical ideas that are often presented within the psychoanalytic literature in abstract, overly technical ways. In a remarkably fresh approach, this book explores how fiction can inform, illuminate and even transform our understanding of psychoanalysis.
Written for practicing clinicians, academics and students as well as for the wider public, this book offers an original and revealing perspective on the overlapping knowledge-claims and concerns of both literary fiction and psychoanalysis.
Reviews and Endorsements
'From Fiction to Psychoanalysis is a brilliant exploration of the interrelations between the experience of literature and the concepts and practices of psychoanalysis. Since the 1970s, both literary critics and psychoanalysts have increasingly recognized the inadequacy of "applied psychoanalysis" to capture and illuminate the fruitful possibilities of dialogue between these ways of knowing human subjectivity. Rosemary Rizq avoids the pull of master-narratives and hierarchic insistence on fixed truths and instead provides eloquent testimony to the value of reading in the potential spaces of both fields. A winner of the American Psychoanalytic Association's Peter Loewenberg Essay Prize in Psychoanalysis and Culture, Rizq shows how works by Kazuo Ishiguro, Colm Tóibín, Henry James, Tessa Hadley, Isak Dinesen and Alice Munro open new meanings of literature while also unfolding original uses of psychoanalytic writings by theorists such as Freud, Winnicott, Laplanche and Kristeva. Her book joins other recent works by Alicia Kristoff, Adam Phillips and others to demonstrate the great value of interdisciplinary writing. From Fiction to Psychoanalysis is deeply informed, beautifully articulate and a pleasure to read, a book that will inspire further creative thinking.' - Murray Schwartz, professor emeritus at Emerson College, Boston Massachusetts, USA.

'Rosemary Rizq's book is an amazingly lucid exposition of the common ground occupied by two eminently creative discourses: psychoanalysis and literature. It is rare to find an author who is as much at home with literature as with psychoanalysis. Rizq accomplishes the almost impossible task of holding the tension between the enigmatic messages conveyed by literary giants such as Ishiguro, James, Munro, Dinesen, Tóibín, and Hadley and identifying their traces and possible translations in the field of psychoanalytic theory and practice. Rizq provides us with a feast of riveting offerings - not least, the fascinating claim that 'the self-as-other is structured like a short story' - that achieves a veritable 'transubstantiation' of psychoanalysis by introducing and exploring its eucharistic relation to literature.' - Anastasios Gaitanidis, director, Relational Psychotherapy Ltd. and co-editor of The Sublime in Everyday Life: Psychoanalytic and Aesthetic Perspectives

'Does one get a better understanding of people through studying psychology or literature? Fortunately, as psychological therapists we can avoid the answer to this question. For here, Rosemary Rizq shows us how we can be more thoughtful practitioners by reconsidering literature, both through the magnificent examples she provides and the process she illuminates, with the help of psychoanalysis and 'ways of reading and telling'. By drawing on literary fiction, this book provides a too rare antidote to the deathly crisis in the Psychological Therapies caused by them becoming increasingly dependent on so called 'evidence-based practice' as the basis of psychotherapeutic knowledge.' - Del Loewenthal, emeritus professor of Psychotherapy and Counselling, University of Roehampton, UK.
About the Author(s)
Rosemary Rizq is a psychologist chartered with the British Psychological Society, an HCPC-registered counselling psychologist and a UKCP-accredited psychoanalytic psychotherapist. She has worked extensively in the NHS as a psychologist and psychotherapist, authoring numerous papers on organizational dynamics as well as on psychotherapeutic training and clinical practice. She is currently professor of Psychoanalytic Psychotherapy at the University of Roehampton, with a part-time private practice in West London. She is co-editor of The Industrialisation of Care
You may also like