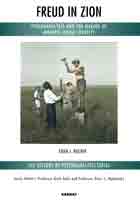 Freud in Zion tells the story of psychoanalysis coming to Jewish Palestine/Israel. In this ground-breaking study psychoanalyst and historian Eran Rolnik explores the encounter between psychoanalysis, Judaism, Modern Hebrew culture and the Zionist revolution in a unique political and cultural context of war, immigration, ethnic tensions, colonial rule and nation building.
Based on hundreds of hitherto unpublished documents, including many unpublished letters by Freud, this book integrates intellectual and social history to offer a moving and persuasive account of how psychoanalysis permeated popular and intellectual discourse in the emerging Jewish state.
Reviews and Endorsements
'Eran Rolnik's work is a story of psychoanalysis and a story of Israel. Unsparing in intellectual honesty Freud in Zion exemplifies the project undertaken as the name "psychoanalysis". Great works of history are always moving. Recollections of things past is inevitably a matter of intense passion redolent with spiritual potential. We return to Freud many times, but Rolnik has us return to psychoanalysis as it moved East, a deeply compelling reading of the migration of ideas.'
- Christopher Bollas

'A rare combination of historiographic discipline and deep grasp of psychoanalytic thinking. This work is a significant contribution to analysts' increasing their knowledge of how their specific institutions developed and how science in general unfolds.'
- Warren Poland

'One of the best books on the history of psychoanalysis that has been written in the last twenty years. Everybody interested in the history of psychoanalysis and in the cultural and social role that our discipline can play in the world should read and make use of this book.'
- Riccardo Steiner

'"Know thyself" is a Greek injunction. The Jews countered it with a different one that could be phrased "Learn thy God". When manifestly secular Jews such as Freud and his colleagues adopted the Greek ideal and meticulously developed around it an original theory and practice, the question of their Jewish identities did not remain external to their activity. Dr Eran Rolnik has written a wonderfully valuable book about the way these two ideals play off against one another. The reader of his original and inspired study will come to understand why psychoanalysis still plays an important role in current Israeli experience.'
- A. B. Yehoshua
About the Author(s)
Eran J. Rolnik is a psychiatrist, psychoanalyst, and historian. He teaches at Tel-Aviv University and at the Max Eitingon Institute for Psychoanalysis in Jerusalem. He works in Tel Aviv in private practice.
You may also like