Forensic Case Histories: Understanding Serious Offending Behaviour in Men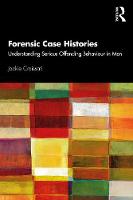 Book Details
Publisher : Routledge
Published : December 2020
Cover : Paperback
Pages : 164
Category :
Forensic
Category 2 :
Individual Psychotherapy
Catalogue No : 95437
ISBN 13 : 9780367360863
ISBN 10 : 9780367360
Also by Jackie Craissati

Forensic Case Histories: Understanding Serious Offending Behaviour in Men examines men's violent and sexual offending behaviours, outlined through a series of real offender narratives, from a psychological perspective and in an accessible manner that will engage any audience, from the criminology-intrigued layperson to the specialist in the field.
This unique and conversational text thinks psychologically about serious crime, offering a compilation of men's narratives that explore their life experiences and the ways in which these experiences influence their behaviour in adulthood. Each chapter addresses a particular theme, covering frequently asked questions in the field such as, 'How can an apparently motiveless offence have meaning?' and 'Is psychopathy a personality disorder, and why do we struggle to treat individuals with such traits?' The narratives of individuals who offend are central to the discussion, but the chapters each draw on the relevant facts from the research literature and highlight key learning points. Many chapters also feature 'Further Reading' sections to expand readers' knowledge.
Both educational and accessible, Forensic Case Histories will appeal not only to specialists but to any layperson curious to understand more about criminal acts. It is especially valuable to students and instructors of criminal justice, mental health, and related fields.
Reviews and Endorsements
"This book is the equivalent of inviting a very interesting and knowledgeable forensic psychologist round for dinner, and using the opportunity to pick their brains about the reality behind the Tabloid headlines that scream out at us on the subject of violent or sexual crime. Stories (aka detailed case studies) are used to skillfully unravel psychological explanations for such acts. Make yourself a cup of tea, pull up a chair, and get ready to lose yourself in a fascinating read that will inspire, captivate and educate, regardless of starting level of knowledge. And you may as well cancel that newspaper subscription while you are at it - superficial headlines will simply annoy you hereafter." - Belinda Winder, Nottingham Trent University, UK.

"Forensic Case Histories provides invaluable insight into the growing reliance on risk assessment in criminal justice. Craissati draws on her unparalleled experience to juxtapose individual case studies with wider research, making complex concepts accessible. It is essential reading for all professionals, lawyers and judicial bodies working with people convicted of serious offences." - Simon Creighton, Bhatt Murphy Solicitors, UK.
About the Author(s)
Dr. Jackie Craissati MBE has more than 30 years of experience in forensic mental health and criminal justice services, and is the author of five books on the subject of men with sexual convictions, and the management of offenders with a diagnosis of personality disorder.
You may also like