Focused Psychotherapy: A Casebook of Brief Intermittent Psychotherapy Throughout the Life Cycle

Also by Nicholas A. Cummings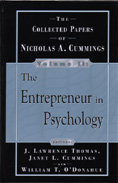 Providing a strikingly clear description of this approach, the volume enables psychotherapists quickly to hone in on the client's true agenda, therefore avoiding unnecessarily long and drawn out therapeutic work.
Reviews and Endorsements
Contents:
Part I: Brief Intermittent Psychotherapy Throughout the Life Cycle. The Developmental View. Psychojudo. Structuring the Episode.
Part II: Onion and Garlic Dynamics. Onion/Analyzable. Garlic/Analyzable. Schizophrenia. Onion/Non-Analyzable. Garlic/Non-Analyzable. Suicidality.
You may also like