Fighting Melancholia: Don Quixote's Teaching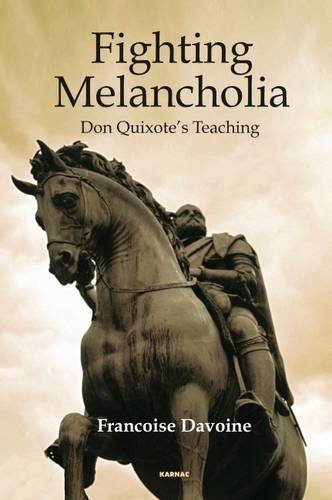 Book Details
Publisher : Routledge
Published : March 2016
Cover : Paperback
Pages : 292
Category :
Culture and Psychoanalysis
Category 2 :
Psychoanalysis
Catalogue No : 37561
ISBN 13 : 9781782203650
ISBN 10 : 1782203656
Also by Francoise Davoine
Françoise Davoine has been investigating psychotic phenomena and trauma for over thirty years, in collaboration with Jean-Max Gaudillière. In this book, she draws on her literary background to take the reader on a fascinating voyage with an unexpected but most helpful guide: Don Quixote.
In her work, Davoine approaches madness not as a symptom, but rather as a place, the place where the symbolic order and the social link have ruptured. She sees the psychotic as a seeker, engaged in a form of exploration into the nature and history of this place. This brings us to the seeker Don Quixote. Davoine takes the reader into the world of the knight-errant, to describe his adventures in a fascinating new light.
Cervantes, the survivor of war trauma, captivity, and all manner of misfortunes, created this hero, first and foremost, so that the tale be told. Moreover, he created a necessary dyad: Don Quixote and Sancho Panza. Davoine sees the latter as a "therapon", a second in combat and ritual double, Don Quixote's therapist. Like Sancho, the therapist is a comrade-in-arms, confronting trauma with the patient. Through transference, a significant relational bond develops. In Don Quichote: Fighting Melancholia, Françoise Davoine offers a reading of Cervantes' novel from this perspective. Scene after scene, battle after battle, the epic tale is retold as a story of healing.
We live in times of world-wide violence, disruption, and disaster. Trauma is unavoidable. But Davoine points to a way out, through the healing power of symbolic exchange within a human relationship. Aside from being of great interest to all therapists working with psychosis and trauma, this book constitutes a brilliant reminder that all human beings, like knights-errant, aspire to "become valiant, generous, magnanimous, courteous, dauntless, gentle, patient", as Cervantes says.
Reviews and Endorsements
'By turns playful, ironic and fierce, Françoise Davoine's brilliantly Quixotic book moves back and forth from the clinical situation to literature and history, showing us what powerful resources the latter can bring to the work of clinical psychoanalysis. Lamenting the loss of the person in contemporary approaches to severe emotional disturbance, Davoine argues that trauma and psychosis go hand in hand, that in fact the deeply troubled patient is carrying out a mad research into family trauma cut out of the official narrative. It's her bold assertion that Cervantes knew this about his own life, and that his characters teach us what it takes to treat these personal catastrophes of history, lessons also brought to life in the stories - startling in their raw authenticity - of her patients. Davoine's advice that we take Don Quixote as our supervisor may both puzzle and amuse us, but she means it and she tells us why.'
-- M. Gerard Fromm, PhD, Senior Consultant, Erikson Institute, Austen Riggs Center, and editor of A Spirit that Impels: Play, Creativity, and Psychoanalysis

'When I approached this book, I asked myself: Should I try to understand the rationale for its writing? Look for a story behind the story? Piece together and trace the master plot? Find the hidden meaning? When all these attempts led nowhere, I realised that the only thing to do was to completely surrender myself to the reading, which was effortless despite abrupt changes in place and in time frames. The book is tightly held together by the resurfacing personal memories of a child of two, of events close to the end of World War Two. This child is the central narrating 'I', who creates the unity from which the book expands and branches out.'
-- Dori Laub, MD, Clinical Professor of Psychiatry, Yale University School of Medicine

'Françoise Davoine has an extraordinary capacity to connect mind, myth and technique to illuminate how we can understand and treat madness or melancholy. She writes with an intense intelligence, luminosity and wit – one of the few theoreticians whose works are literature in themselves.'
-- Jane Ryan, Director of Confer, and author of How Does Psychotherapy Work?

'In this remarkable book Françoise Davoine shows how literature is a site of madness as well as a source for its healing. Don Quixote is, in her reading, both madman and therapist, and Françoise Davoine herself, speaking as therapist, brilliantly draws for her healing inspiration on the legacy of her own traumatic past. A work of imagination, history, trauma, and life.'
-- Cathy Caruth, author of Unclaimed Experience: Trauma, Narrative and History and Literature in the Ashes of History
About the Author(s)
Françoise Davoine obtained an Agregation in classics (French literature, Latin and Greek) in 1966, followed by a doctorate in sociology in 1981, before becoming a psychoanalyst. She worked for thirty years as a psychoanalyst in public psychiatric hospitals in France, and as an external consultant and is currently in private practice. She was a Professor at the Centre for the Study of Social Movements, École des Hautes Études en Sciences Sociales (EHESS) in Paris, where she and Jean-Max Gaudillière conducted a weekly seminar on 'Madness and the Social Link'. She has also made numerous presentations at the Austen Riggs Center in Massachusetts (USA), as well as elsewhere in the US, in England, Sweden, Finland, Greece, Mexico, Brazil, Argentina, and Switzerland. Dr Davoine is the author of many articles and books, including La Folie Wittgenstein, Mother Folly, and History Beyond Trauma (with Jean Max Gaudillière).
You may also like