Feminine Law: Freud, Free Speech, and the Voice of Desire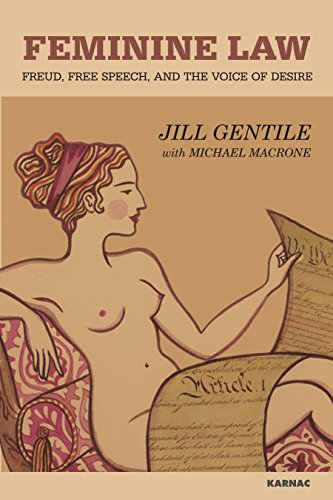 Book Details
Publisher : Routledge
Published : March 2016
Cover : Paperback
Pages : 330
Category :
Psychoanalysis
Catalogue No : 36895
ISBN 13 : 9781782202776
ISBN 10 : 1782202773
Feminine Law: Freud, Free Speech, and the Voice of Desire explores the conjunction between psychoanalysis and democracy, in particular their shared commitments to free speech. In the process, it demonstrates how lawful constraints enable an embodied space or "gap" for the potentially disruptive but also liberating and novel flow of desire and its symbols. This space, intuited by the First Amendment as it is by Freud's free association, enables personal and collective sovereignty. By naming a "feminine law," we mark the primacy a space between the conceivable and the inconceivable, between knowledge and mystery.
What do political free speech and psychoanalytic free association have in common, besides the word "free"? And what do Sigmund Freud and Justice Louis Brandeis share besides a world between two great wars? How is the female body a neglected key to understanding the conditions and contradictions of free discourse? Drs. Jill Gentile and Michael Macrone take up these questions, and more, in their wide-ranging, often passionate exploration of the hidden legacy of Freud and the Founding Fathers. These pioneers, through their imprecise instructions to fight repression, set in motion incessant processes by which we claim power and agency. These processes come into sharp focus in the analytic clinic. The authors show that psychoanalysis is not just a method of treatment, but also a practice of "transitional democracy," in which doctor and patient together discover the very basis of equality, as they learn how to navigate its essential flux, both in relationships and in public action.
Feminine Law illustrates these ideas through detailed portraits of political and clinical struggle—in Constitutional battles and dynamic case studies. It tells stories of victory and setback, advance and retreat. And it tells the larger story of a dialectical process that is necessary to freedom itself. This story is peopled by characters such as Freud and the post-Freudians Lacan, Bion, and Winnicott; feminist theorists such as Benjamin, Gilligan, and Kristeva; the Constitution's framers and jurists such as Holmes and Brandeis; and modern legal scholars and contemporary critical theorists. Its thesis is illuminated by ideas from a broad range of disciplines and literatures, ranging from Athenian politics and Euripidean tragedy to the modern semiotics of C. S. Peirce and Walker Percy. The tale ultimately reaches a simple but rich conclusion: That both the talking cure and political free speech reveal the power of a Feminine Law: a law of spaces and dimensions that preconditions our (necessarily imperfect) pursuit of desire, subjective freedom, and collective agency. Feminine law opens a democratic space for the potentially disruptive but also liberating and novel flow of desire and its symbols.
Reviews and Endorsements
'Creatively bringing together the Founding Fathers and the father of psychoanalysis, Jill Gentile begins with the foundational ideas of free speech in democracy and free association on the couch, opening up a fascinating unexplored space that illuminates the magic of language and the paradoxes, limits, and complexities at the heart of desire. This is an erudite, bravura performance that makes good on a long deferred hope that psychoanalysis can bring deeper understanding to our political confusions.'
-- George Makari, MD, author of Soul Machine: The Invention of the Modern Mind and Revolution in Mind: The Creation of Psychoanalysis

'Jill Gentile has written a passionate love letter to psychoanalysis and democracy, to free association and free speech. Reaching beyond the phallocentrism of earlier psychoanalytic thought, Gentile reconfigures feminine "lack" as a generative space of potentiality. Gentile revolutionizes Freudian theory while deftly paying homage to what was revolutionary about it in the first place. The effect of her stunningly erudite and original interpretation is akin to what Alain Badiou calls a "truth-event": it shatters conventional mythologies regarding femininity and its (lack of) social status, and reveals a whole new universe of (feminine) possibility.'
-- Mari Ruti, PhD, Professor of Critical Theory, University of Toronto, and author of Between Levinas and Lacan: Self, Other, Ethics

'The repudiation of femininity can be nothing else than a biological fact, a part of the great riddle of sex. So stated Freud. Jill Gentile takes this assumption as an invitation to go beyond, in this rich and expansive exploration of the possibility of naming the feminine. Ranging across semiotics, political theory, and the panoply of contemporary psychoanalysis, Gentile renews both clinical theory and democratic philosophy. Playful and incisive, this work opens new spaces for contemplation.'
-- David Lichtenstein, PhD, editor of DIVISION/Review

'Feminine Law is amazing in its erudition and in the ways it uses a seemingly simple analogy between freedom of speech and free association to explore vast areas of political life. The further analogy between analyst and government is just as illuminating. Gentile gestures towards a particular theory of democracy - call it emancipatory democracy - that restates psychoanalysis's core mission but in the public sphere. Its project would firstly liberate oppressed or ignored or invisible people. But it would also emancipate the "people" themselves as a collective actor with an interior life.'
-- John Ferejohn, PhD, Samuel Tilden Professor at New York University Law School

'This is perhaps the most unusual psychoanalytic book I have read. And the most unusual essay on the nature of democracy. In assuming the inherent "rights" of human desire, it frames something essential about both the psychoanalytic and American experiments in claiming our desire. Freedom of thought, freedom of speech, and the freedom to desire in relation to sexuality, gender and the body are essential elements in this ambitious discussion. That Jill Gentile is able to bring the reader into a shared fascination with what is common in these disparate ideas, is a monumental accomplishment.'
-- Jonathan H. Slavin, PhD, ABPP, former president, Division of Psychoanalysis (39), American Psychological Association; Clinical Instructor, Department of Psychiatry, Harvard Medical School
About the Author(s)
Jill Gentile is an adjunct assistant clinical professor at the NYU Postdoctoral Program in Psychotherapy and Psychoanalysis, and a training and supervising analyst at the Institute for the Psychoanalytic Study of Subjectivity in New York. She is a corresponding editor of Contemporary Psychoanalysis and on the editorial board of the International Journal of Psychoanalytic Self Psychology. Her essays, describing a semiotic and phenomenological trajectory of agency, desire, and symbolic life, have been published in several psychoanalytic journals. A founding member of the DreamTank collective, dedicated to the application of psychoanalysis to democracy and to public, symbolic life, she is a practicing psychoanalyst and clinical psychologist in Highland Park, New Jersey and in Manhattan, New York.
Michael Macrone is the author of nine books on language, literature, and ideas, including three on Shakespeare. His first book, Brush Up Your Shakespeare!, published in two editions by HarperCollins, has sold more than 100,000 copies. He has bachelor's degrees from Brown University in Semiotics and Mathematics, and a PhD in English from the University of California, Berkeley. He has taught Web Design at the California College of Art, and his work as an interactive designer and developer has earned numerous awards. He is currently the Chief Technology Officer at Publishers Marketplace, an online resource for the publishing profession. In recent years he has presented papers on Euripides and John Lennon at psychoanalytic conferences in Italy and Santa Fe.
You may also like