Far from the Tree: A Dozen Kinds of Love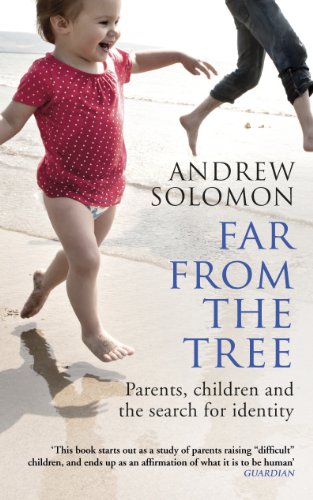 In this seminal new study of family, Andrew Solomon tells the stories of parents who learn to deal with their exceptional children and find profound meaning in doing so. He introduces us to families coping with deafness, dwarfism, Down syndrome, autism, schizophrenia, disability, with children who are prodigies, who are conceived in rape, who become criminals, who are transgender. While each of these characteristics is potentially isolating, Solomon documents repeated triumphs of human love and compassion to show that the shared experience of difference is what unites us.
Drawing on interviews with over three hundred families, Solomon documents ordinary people making courageous choices, whether considering prenatal screening for genetic disorders, cochlear implants for the deaf, or gender reassignment surgery. Parents and children are challenged to their limits, but often grow closer as a result; many discover supportive communities of others similarly affected; some are inspired to become activists, celebrating the conditions they once feared. Elegantly reported by a spectacularly original thinker, Far From The Tree explores themes of generosity, acceptance and tolerance - and shows how love for one's children can transcend every prejudice. This crucial and revelatory book expands our definition of what it is to be human.
About the Author(s)
Andrew Solomon is a journalist and lecturer of politics, culture and psychology who writes regularly for the New Yorker, Newsweek, and the Guardian. He is a Lecturer in Psychiatry at Cornell University and Special Adviser on LGBT Affairs to Yale University's Department of Psychiatry. His highly acclaimed international study of depression, The Noonday Demon, won the 2001 National Book Award and was a finalist for the 2002 Pulitzer Prize. He lives with his husband and son in New York and London.
You may also like