Fanon, Phenomenology, and Psychology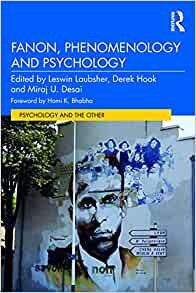 Book Details
Publisher : Routledge
Published : November 2021
Cover : Paperback
Pages : 280
Category :
Psychoanalysis
Catalogue No : 96021
ISBN 13 : 9780367471484
ISBN 10 : 0367471485
Also by Derek Hook
Fanon, Phenomenology, and Psychology is the first edited collection dedicated to exploring the explicitly phenomenological foundations underlying Frantz Fanon's most important insights.
Featuring contributions from many of the world's leading scholars on Fanon, this volume foregrounds a series of crucial phenomenological topics - inclusive of the domains of experience, structure, embodiment, and temporality - pertaining to the analysis and interrogation of racism and anti-Blackness. Chapters highlight and expand Fanon's ongoing importance to the discipline of psychology while opening compelling new perspectives on psychopathology, decolonial praxis, racialized time, whiteness, Black subjectivity, the racial ontologizing of the body, systematic structures of racism and resulting forms of trauma, Black Consciousness, and Africana phenomenology.
In an era characterized by resurgent forms of anti-Blackness and racism, this book is essential reading for students, scholars, and activists who remain inspired by Fanon's legacy.
Reviews and Endorsements
"Remarkable for its scope and acuity, impressively lucid and well informed, this book successfully locates Fanon in an established phenomenological tradition. In the process, it fundamentally alters the way we read the Martinican psychiatrist's oeuvre. Its succession of incisive and persuasive essays will quickly become a source for debate, elaboration, or contention." — Achille Mbembe, author of Necropolitics.

"After the post-Floyd summer of 2020, the global significance of race, racism, and ongoing anti-Blackness in particular has become impossible to deny, underlining the continuing, indeed enhanced, relevance of the imperishable texts of Frantz Fanon. This invaluable collection brings together new and classic analyses that should consolidate Fanon's stature both as a founder of 'critical' phenomenology and a pathbreaker in the theorization of an anti-essentialist, politically informed and socially contextualized, human psychology." — Charles Mills, author of The Racial Contract and Black Rights/White Wrongs: The Critique of Racial Liberalism...?.  

"On a foray for love, theorists/psychologists edited this excellent collection, Fanon, Phenomenology, and Psychology. Anchored with a beautiful introduction, this book honors an ancestor who was and remains 'as much psychiatrist as revolutionary.' As we struggle for self-possession and protection from varied forms of lynching and disappearance, we can find respite here, and deep engagement with the language of struggle and liberation." — Joy James, editor of Imprisoned Intellectuals and author of Seeking the Beloved Community.

"Urgent, necessary, all-too-timely, Fanon, Phenomenology, and Psychology offers us not one but multiple Fanons for this contemporary moment. Within its pages we meet Fanon the psychiatrist, Fanon the phenomenologist, Fanon the freedom fighter and activist, Fanon the chronicler of colonialism, Fanon the diagnostician of racism, Fanon the theorist of time. The cumulative power and promise of the essays gathered here cannot be over-stated. This is just a dazzlingly exciting adventure in reading and thinking." — Ann Pellegrini,, author of Performance Anxieties: Staging Psychoanalysis, Staging Race.

"This 'must read' volume, edited by three phenomenological psychologists, claims Frantz Fanon's right place at the gateway to critical and decolonial phenomenological psychologies. The book's chapters, written by world renowned Fanon scholars, make clear Fanon's importance for critiquing the whiteness of Eurocentric depth psychologies, while opening potential pathways to transdisciplinary psychologies of liberation that begin—as they must—with the racism that sustains coloniality." — Mary Watkins, author of Mutual Accompaniment and the Creation of the Commons and co-author of Toward Psychologies of Liberation.

"What more relevant text for our troubled times of racialised pandemic, Black Lives Matter mobilisations after the murder of George Floyd and the storming by White supremacists of Capitol Hill? In this volume, Fanon's contributions to and as phenomenology are explicated, assessed and shown to be unique and vital (in multiple senses). This bumper collection of new, specially written and classic papers on Fanon underscore why and how we need Fanon now, to think and rethink racialisation, embodiment and action." — Erica Burman, author of Fanon, Education, Action: Fanon as Method.

"Whether in the bottom of slave ships, the streets of North America, or within the context of a global Blackness, we are painfully aware of the indelible cries of Black bodies: 'I can't breathe!' That cry, that lament, speaks to an anti-Black world within which Frantz Fanon had higher hopes, where he desired to move with effortless grace and help to build the world together, but was constantly denied. Yet, Fanon knew that his racialized predicament, his deep alienation, was 'not an individual question.' Fanon, Phenomenology, and Psychology, interdisciplinary at its core, and at times even de-disciplinary, is a discursively diverse text that not only reminds us of the deep significance of Fanon's contestation of disciplinary purity or methodological fetishization, but it is a text that uncovers the persistent haunting reality of sociogenic anti-Black racism, where the Black body remains accused, where amputations and excisions are experienced, where the Black body is rendered 'an object among other objects,' where Black life continues to be disposable, fungible, and ungrievable. This critically engaging and urgent text that you hold, one that refuses to reduce the complexity of Fanon and his corpus to a singular conceptual orientation, and one that therefore recognizes the generativity of reading Fanon through multiple and overlapping frameworks, especially psychology and phenomenology, demonstrates the revolutionary force of Fanon's work for our contemporary mourning and his aspirations for a new humanism that refuses 'to accept the present as definitive.'" — George Yancy, author of Backlash: What Happens When We Talk Honestly About Race in America.
About the Editor(s)
Leswin Laubscher|, PhD, is chair of the department of psychology at Duquesne University, Pittsburgh, and extraordinary professor in the department of psychology at the University of the Western Cape, South Africa. He is the author of the textbook, An Introduction to Psychology as a Human Science.
Derek Hook is an associate professor of Psychology at Duquesne University, USA, and an extraordinary professor of Psychology at the University of Pretoria, South Africa. He is the author of Six Moments in Lacan.
Miraj U. Desai, PhD, author of Travel and Movement in Clinical Psychology: The World Outside the Clinic, is on the faculty of the Yale Program for Recovery and Community Health.
You may also like