Fanaticism in Psychoanalysis: Upheavals in the Institutions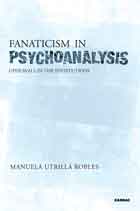 Book Details
Publisher : Karnac Books
Published : July 2013
Cover : Paperback
Pages : 160
Category :
Organisational Psychology
Category 2 :
Psychoanalysis
Catalogue No : 34209
ISBN 13 : 9781782200192
ISBN 10 : 1782200193
'This is a scholarly study in which the author explores a difficult subject matter that has been a tabooed topic in psychoanalysis. She undertakes a serious study of the underlying arguments as to why psychoanalysts have seldom been able to live in harmony with each other. In a very lucid and systematic manner, Dr Utrilla Robles examines how a discipline, in this case psychoanalysis, can be manipulated to its detriment. She explains the disquieting processes that take place, which impede the development of psychoanalysis. These influences insidiously infiltrate the organisational ranks as a kind of arguing which should ostensibly enrich psychoanalysis but instead deprives it of its creativity. For a discipline to prosper, it is necessary to have the freedom to air doubts, ask questions, raise hypotheses, and contrast discoveries by sharing them with others, debating different positions to reflect on the discussions, and to change one's views if necessary.
This type of attitude stands in stark contrast to the kind of thinking that excludes and establishes norms to demonstrate how one is right in leaving no room for other ideas and creates research projects, which cannot be refuted. The author's intention in this book is to study and shed light on these phenomena that have been considered a taboo because of the secrecy surrounding them.'
- from the Foreword by Dr Günther Perdigao
Reviews and Endorsements
'Manuela Utrilla Robles has done great service to psychoanalysis through her inspiring investigation of analytic fanaticism that all to often dwells in the centre of our institutional life. This taboo subject begins with a failure of ethics and respect for the individual, developing into "intellectual terrorism". Analytic institutions are vulnerable to leaders who Utrilla describes as using idealisation and politicisation so that analysis itself becomes a distorted object. Her descriptions of analytic society meetings' where colleagues are told that 'the institution has room for all' invokes the Orwellian language that is invariably found in national politics. Helpfully visiting group dynamics she returns us to Freud's future of an illusion by way of an answer. This is a brave and an important book.'
- Dr Jonathan Sklar, Training Analyst, The British Psychoanalytical Society

'The sadly ever-present issue of fanaticism is the subject of this psychoanalytic study of the roots of intolerance. Several historical figures are used to study the mechanisms of regression to magical and omnipotent thinking, where domination over the other requires the elimination of differences to establish a single thought, with the victimhood of the fanatic as paradoxical use of power. The author proposes a reflection on freedom and its various forms of coarctation in individual and group levels. The insistence on the necessity of working through runs throughout this vibrant work like a hymn to freedom of thought and creativity.'
- Dr Milagros Cid Sanz, MD, Training analyst at the Madrid Psychoanalytical Association and European Representative of the Board of the International Psychoanalytical Association
About the Author(s)
Manuela Utrilla Robles has a doctorate in medicine and psychiatry from the Universities of Geneva and Madrid, having been a Professor at both universities. She has taught at the Institute of Social Studies in Geneva and was Director of the Day Hospital for autistic children in Geneva, as well as Head of the Neuropsychiatric Centre in Brussels and the Medical Service-Pedagogique in Geneva. She has been editor of the journal of the Madrid Psychoanalytical Association, European Representative of the Board of the International Psychoanalytical Association, Representative of the European Psychoanalytical Federation in the Federation of Psychoanalytic Societies of Latin America (FEPAL) and President of the Madrid Psychoanalytical Association.
You may also like