Facts and Fictions in Mental Health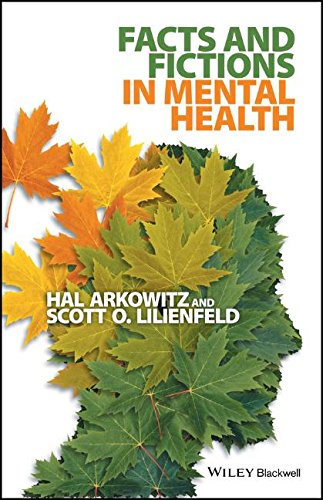 Book Details
Publisher : John Wiley
Published : 2015
Cover : Paperback
Pages : 288
Category :
Popular Psychology
Catalogue No : 40207
ISBN 13 : 9781118311295
ISBN 10 : 1118311299
Also by Hal Arkowitz
Also by Scott O. Lilienfeld
Written in a lively and entertaining style, Facts and Fictions in Mental Health examines common conceptions and misconceptions surrounding mental health and its treatment. Each chapter focuses on a misconception and is followed by a discussion of related findings from scientific research.
* A compilation of the authors' Facts and Fictions columns written for Scientific American Mind, with the addition of six new columns exclusive to this book
* Written in a lively and often entertaining style, accessible to both the undergraduate and the interested general reader
* Each chapter covers a different fiction and allows readers to gain a more balanced and accurate view of important topics in mental health
* The six new columns examine myths and misconceptions of considerable interest and relevance to undergraduates in abnormal psychology courses
* Introductory material and references are included throughout the book
About the Author(s)
Scott O. Lilienfeld, PhD, is Professor of Psychology at Emory University. He is Associate Editor of the Journal of Abnormal Psychology and serves on the editorial boards of several other journals. Dr. Lilienfeld's principal interests are the causes and assessment of personality disorders, especially psychopathy; dissociative disorders; psychiatric classification and diagnosis; evidence-based practice in psychology; philosophical psychology; and the application of scientific thinking to psychology education. He is a recipient of the James McKeen Cattell Award for Distinguished Achievements in Applied Psychological Science from the Association for Psychological Science and serves as President of the Society for the Scientific Study of Psychopathy.
You may also like