Exploring the Concept of Feel for Wellbeing and Performance: How We Lost the Felt Experience, Why it Matters, and How to Return to Our Natural Way of Being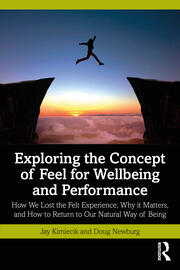 Book Details
Publisher : Routledge
Published : December 2022
Cover : Paperback
Pages : 224
Category :
Counselling
Catalogue No : 96924
ISBN 13 : 9781032279015
ISBN 10 : 9781032279
This book analyses and unpacks the term Feel by exploring its many definitions and examples in real life. Incorporating psychological theories and case studies, it offers a groundbreaking look into what it means to Feel and its importance in people's everyday lives.
Experiencing life without Feel has led to many deleterious performance, health, and wellbeing consequences. Exploring the Concept of Feel for Wellbeing and Performance takes a deep dive into the origins and definitions of Feel, asking what has happened to the Feel experience, and what people must do to recoup their Feel. With a highly accessible tone and clear structure, the book provides its readers with effective ways to improve performance and enhance wellbeing. The authors challenge the status quo of both performance science and wellbeing practices and begin a conversation on why people should be more proactive when it comes to their Feel.
Anyone interested in helping themselves or others with performance excellence and wellbeing will benefit from this book, which blends science and practice and provides many examples of people from all walks of life who live with Feel. The book will also be key reading for students and practitioners interested in sport psychology, leadership studies, mental health studies counselling, and life coaching.
You may also like