Experiences of Depression: A Study in Phenomenology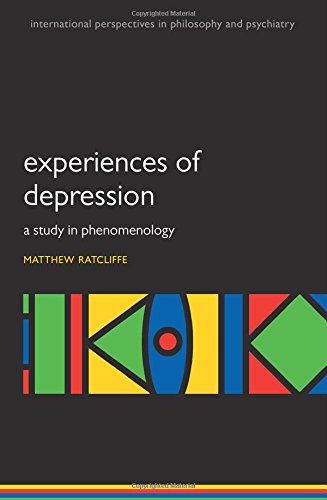 Book Details
Publisher : Oxford University Press
Published : 2014
Cover : Paperback
Pages : 336
Category :
Clinical Psychology
Catalogue No : 38242
ISBN 13 : 9780199608973
ISBN 10 : 0199608970
Also by Matthew Ratcliffe
Experiences of Depression is a philosophical exploration of what it is like to be depressed. In this important new book, Matthew Ratcliffe develops a detailed account of depression experiences by drawing on work in phenomenology, philosophy of mind, and several other disciplines. In so doing, he makes clear how phenomenological research can contribute to psychiatry, by helping us to better understand patients' experiences, as well as informing classification, diagnosis, and treatment.
Throughout the book, Ratcliffe also emphasizes the relevance of depression to philosophical enquiry. He proposes that, by reflecting on how experiences of depression differ from 'healthy' forms of experience, we can refine our understanding of both. Hence phenomenological research of this kind has much wider applicability. He further shows how the study of depression experiences can inform philosophical approaches to a range of topics, including interpersonal understanding and empathy, free will, the experience of time, the nature of emotion and feeling, what it is to believe something, and what it is to hope.
This book will be of interest to anyone seeking to understand and relate to experiences of depression, including philosophers, psychiatrists, clinical psychologists, therapists, and those who have been directly or indirectly affected by depression.
About the Author(s)
Matthew Ratcliffe is a Professor of Philosophy at Durham University. Most of his research addresses issues in phenomenology, philosophy of psychology, and philosophy of psychiatry.
You may also like