Envy is Not Innate: A New Model of Thinking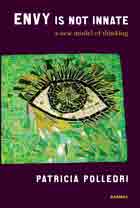 Book Details
Publisher : Karnac Books
Published : 2012
Cover : Paperback
Pages : 224
Category :
Psychoanalysis
Catalogue No : 31188
ISBN 13 : 9781780490021
ISBN 10 : 178049002X
This book is a comprehensive revision of the notion of envy, suggesting that envy is not innate and proposing some fresh ideas about its relation to psychopathology. Its argument is that envy is not simply attributable to constitutional forces, as Melanie Klein proposed, but the outcome of a complex process that includes a disturbance in symbolic functioning. This is the first time a critical review has been undertaken in book from of this cornerstone of British psychoanalysis.
As the concept of envy needs to be explored in the light of attachment theory, an important aim of this book is in bridging attachment theory and classic psychoanalytic understanding of severe psychopathology. It also offers, for the first time, not only a reconceptualisation of the notion of envy, but a working model of development which is highly relevant to clinical practice. This model incorporates recent findings from neuroscience, which indicate that environmental influences are of prime importance to infantile development, and that disturbed attachments result in anatomical, physiological and psychological developmental disturbances. The model will be particularly useful in furthering our understanding of the influence on later mental health of an infant's healthy attachment to its mother. From direct clinical experience in the forensic field of psychotherapy, and general practice, the author describes how psychosis and criminal behaviour represent a fundamentally acute failure in the capacity for social interdependence and altruism in human nature that is taken for granted in the psychologically well.
Conducting her own research, the author was enabled to examine further the underlying causal mechanisms of aggression and destructiveness in relation to envy. A substantial amount of clinical material in this book supports the author's argument that innate destructiveness is not the primary problem: survival needs are primary, with aggression a secondary reaction when libidinal needs are frustrated. Fight and flight responses in psychopathology, including psychoses, dissociative disorders and perverse activities, are therefore seen as self preservative and not death wishes.
The result is a useful paradigm of mental health which does not rely on omnipotent phantasy and which does justice to the importance of human interdependence on the one hand, and adaptability and inventiveness on the other.
Reviews and Endorsements
'In this imposing and groundbreaking book, Polledri encourages us to look beyond easily accepted traditional psychoanalytic concepts, such as envy and the psychopathology associated with it. The reader will be challenged with both old and new ways of thinking about the nature of the mother-baby relationship that will undoubtedly prove helpful in both clinical and theoretical work. It is with pride that I endorse this book written by an early student of the diploma course in Forensic Psychotherapy at the Tavistock & Portman Clinic NHS Trust.'
- Estela Welldon, MD DSc (Hon) F.R.C.Psych, founder & Honorary Life President of the International Association for Forensic Psychotherapy, author of Playing with Dynamite and Mother, Madonna, Whore

'This is a rich and sophisticated book by an experienced therapist in the field of forensic psychotherapy. Patricia Polledri has skilfully reviewed a number of complex academic discourses (psychoanalytic, ethological, neurobiological) to produce an account of envy that is empirically based, and clinically meaningful. The book is illustrated with clinical examples that support the thesis and demonstrate the suffering caused by envy in its various manifestations. I hope practising analysts will read this book and use it as a basis for teaching and training the psychoanalytic therapists of the future.'
- Dr Gwen Adshead, consultant forensic psychiatrist and psychotherapist, Broadmoor Hospital, West London Mental Health Trust
About the Author(s)
Patricia Polledri, PhD, is a forensic psychotherapist in private practice in London. She has spent many years furthering understanding of developmental psychopathology in order to produce a workable model that is relevant to clinical practice. She has developed her ideas both from clinical experience and from academic research at University College London Medical School, Department of Psychiatry and Behavioural Sciences, and at the University of Sussex, School of Law, Politics and Sociology.
You may also like