Entropy of Mind and Negative Entropy: A Cognitive and Complex Approach to Schizophrenia and its Therapy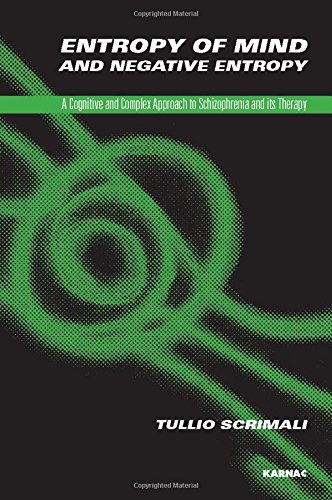 Also by Tullio Scrimali
Our Customers Average Rating
Read all reviews (1)





Schizophrenia is the central problem in the sciences of the mind, not only for its etiological, psychopathological and clinical aspects, but also because of its implications for therapy and rehabilitation. In this volume the author describes a series of new scientific and clinical perspectives for schizophrenia influenced by cognitivist and constructivist approaches and informed by the logic of complexity and non-linear, dynamic systems.
The author delineates a new complex theory of the brain and a procedural theory of the mind, founded on the concept of the modular brain and the coalitional mind. Subsequently, the author develops a multi-factorial conceptualization of the etiological dynamic and an original, complex, and evolutionary perspective concerning the psychotic condition, which has been redefined, in this case, as Entropy of the Mind or Phrenentropy. In conclusion, the author illustrates an innovative, integrated protocol, denominated Negative Entropy, for the treatment and rehabilitation of patients with schizophrenia.
Reviews and Endorsements
'In this major volume Scrimali offers an integrative biopsychosocial perspective. He focuses on the biological markers and the clinical psychopathology and psychophysiology of the disorder. He examines the cognitive and behavioural manifestations of the disorder in a clear and understandable manner. The sections on assessment and treatment deserve special attention. The assessment chapter describes the neuropsychological, psychophysiological, and family issues that are the essence of schizophrenia. Writing as a psychiatrist, neuropsychologist, and clinical researcher, Scrimali describes the problems and then describes the treatment. With a goal of helping the patient with schizophrenia toward more effective coping and enhanced function, Scrimali also takes a rehabilitation focus that describes the social, family, and individual work that must be coordinated in the best interest of the patient.'
- Arthur Freeman, Dean, School of Professional Studies, University of Saint Francis, Fort Wayne, Indiana, from the Preface
About the Author(s)
Tulio Scrimali is a physician, specialising in psychiatry, psychology and psychotherapy. He teaches Psychotherapy in the Faculty of Medicine and in the Resident School of Psychiatry at the University of Catania. He also teaches Clinical Psychology at the Faculty of Psychology Kore University of Enna. He has founded and directs the ALETEIA International, World School of Cognitive Therapy, in Enna.
Customer Reviews
Our customers have given this title an average rating of 4 out of 5 from 1 review(s), add your own review for this title.
Wioleta Strzelczyk on 24/03/2008





(4 out of 5)
The new approach to schizophrenia described in the book is very impressive and innovative.
You may also like