Endings and Beginnings: On Terminating Psychotherapy and Psychoanalysis: Second Edition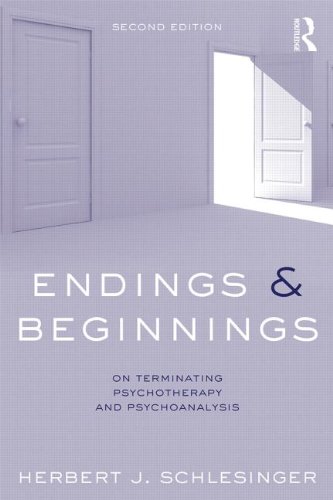 Book Details
Publisher : Routledge
Published : 2013
Cover : Paperback
Pages : 272
Category :
Psychoanalysis
Category 2 :
Individual Psychotherapy
Catalogue No : 35189
ISBN 13 : 9780415814072
ISBN 10 : 0415814073
Also by Herbert J. Schlesinger
In this second edition Herbert J. Schlesinger explores endings and beginnings within psychoanalysis and psychoanalytic therapy; both the obvious main endings and beginnings of any course in treatment, and the many little endings and beginnings that permeate analysis. The second edition contains new chapters including one on transference and counter-transference as sources of information about the process of therapy and as sources of difficulty in ending. It deals especially with the impact of prospective ending on the therapist, which if not understood and well handled, might interfere with working through and impede termination, if not ending itself. Another new chapter deals with the difficulties in terminating with especially narcissistic patients.
One of the main criticisms against psychoanalysis and the psychotherapies derived from it is that it lacks criteria for when the patient has had enough. Herbert J. Schlesinger shows how we may view the process as a series of episodes each with an ending and possibly with a new beginning. He presents the way patients signal, even before they are aware of it, that ending is in the air, and how it organizes how they experience the therapy. If alerted, the therapist can make use of these signals to locate self and patient in the process. So informed, the therapist is better able to discern when the therapy should end and help the patient work through the issues of separation and loss to terminate the treatment constructively.
All patients tend to end psychotherapy in the way they end all other relationships. In several chapters on the problems related to severe regression, therapists can learn how to help vulnerable patients, for whom attachment is problematic, deal with separation non-traumatically. In Endings and Beginnings: Second Edition, the theory of the continuous experience of ending and beginning and the array of landmarks that parse the clinical process are distinct advances to the technique of psychoanalysis and the psychotherapies derived from it. Schlesinger offers many clinical examples of ending and beginning with their technical problems and solutions.
This contribution to the technique of ending and beginning psychotherapy electively will be useful to practicing psychotherapists and psychoanalysts, and to undergraduate and post-graduate students in clinical psychology, psychiatry and social work.
You may also like