EMDR and the Relational Imperative: The Therapeutic Relationship in EMDR Treatment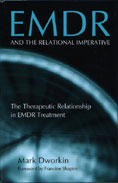 Book Details
Publisher : Routledge
Published : January 2005
Category :
EMDR
Category 2 :
Individual Psychotherapy
Catalogue No : 22952
ISBN 13 : 9780415950282
ISBN 10 : 0415950287
Over the past sixteen years, since its initial introduction to professional circles, Eye Movement Desensitization and Reprocessing (EMDR) has become increasingly popular among practitioners dealing with trauma. While a number of empirical studies, clinical experience, and published scholarly work have confirmed the efficacy of this therapeutic method in the treatment of trauma and PTSD, there remains a large gap in the literature pertaining to this burgeoning area. Most of the existing literature on EMDR concentrates on the theoretical constructs of the method and/or the physical methodology of the treatment. This book explores an area that has, until now, been left unconsidered.
Reviews and Endorsements
The book examines the nature of the therapeutic relationship as it pertains to EMDR use in psychotherapy. Mark Dworkin has been in practice as a psychotherapist for over 30 years - specializing in the treatment of PTSD for the last 25 of those years - and has been working with Dr. Francine Shapiro (founder of the EMDR Institute and generally accepted as the developer of EMDR) since 1995. Mr. Dworkin represents the entire body of research and published work on the relational aspects of EMDR, and has received Dr. Shapiro's support and guidance in his expansion of the theory and practice of this treatment methodology. Indeed, Dr. Shapiro will write the foreword to the book, which guarantees a level of credibility and authority both within the EMDR networks and for those clinicians interested in incorporating the technique into their practices.

Contents: Foreword. Preface. Acknowledgements. The Relational Imperative in EMDR. The Therapeutic Relationship and its Underlying Neurobiology. Using EMDR Relationally in Daily Clinical Practice. Phase One: Client History Taking and Treatment Planning (Trauma Case Conceptualization.) Phase Two: Client Preparation (Testing Affect Tolerance and Body Awareness.) Phase Three: Assessment (Trauma Activation Sequence.) Phase Four: Desensitization (Active Trauma Processing.)Transference, Countertransference, and the Intersubjective. The Relational Interweave and Other Active Therapeutic Strategies. Phases Five Through Eight: Installation (Linking to the Adaptive Perspective), the Body Scan (Intensive Body Awareness) Closure (Debriefing), and Re-evaluation. Trauma, PTSD, and Complex PTSD. Appendix B: Definition of EMDR. Appendix C: Myths and Realities About EMDR. Appendix D: Confusion Regarding Research on EMDR. Appendix E: Trauma Case Conceptualization Questionnaire. Appendix F: Clinician Self-Awareness Questionnaire. Appendix G: International Treatment Guidelines and EMDR Research. Appendix H: The Humanitarian Assistance Program. Glossary. References.

You may also like