Ecological and Climate-Conscious Coaching: A Companion Guide to Evolving Coaching Practice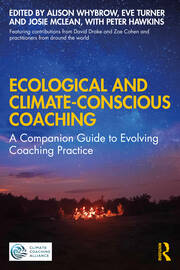 Book Details
Publisher : Routledge
Published : November 2022
Cover : Paperback
Pages : 308
Category :
Coaching
Category 2 :
Environmental Studies
Catalogue No : 96911
ISBN 13 : 9780367722005
ISBN 10 : 0367722003
Also by Alison Whybrow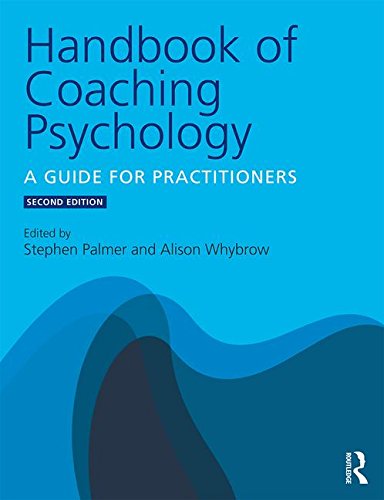 Also by Eve Turner
This book takes you on a seven-day journey with your guides: 60 coaches and thought-leaders from around the world. Through storytelling, poetry and other creative approaches, readers can follow this programme alone or with others and take a practical and empowering look at the impact of the climate emergency on their practice and how they might respond.
Ecological and Climate-Conscious Coaching: a Companion Guide to Evolving Coaching Practice describes methods for adapting your practice while making a livelihood, reframing your work with urgency and action through exploration of the five-stage 'Eco-phase' cycle, moving from 'Eco Curious', 'Eco-Informed', 'Eco-Aware', to 'Eco-Engaged' and 'Eco Active'. Designed to encourage discussion, raise awareness and increase confidence about stepping into a leadership role, the book explores the difference that coaching can make in the world as a result of greater eco-awareness and systemic understanding.
Featuring powerful stories from around the world, and with a treasure trove of resources and practical tools and methods, supported by reflective and practical exercises, this book will be an inspiring read not only for those involved in coaching, supervision, mentoring and leadership development, but also for leaders.
Reviews and Endorsements
'Raising awareness and knowledge around the urgency of the climate emergency and creating safe and challenging space to reflect and act is what we can and need to do. This challenging, and, by design, "uncomfortable" book offers just that – frameworks, tools, techniques that would allow anybody to understand the eco-phase cycle and find their way in contributing to the lasting solution.' - Magdalena Nowicka Mook, CEO, International Coaching Federation.

'There are many important books on the climate crisis. Coaches have begun to recognise they have a role but also to begin for many the journey of moving from concern to action. What we have been missing is a guide to that journey and a framework for conceptualising the challenge we face. Ecological and Climate Conscious Coaching provides that guide and that framework. It takes us through the process of understanding how we might recognise and respond to the crisis confronting us all. Providing both concepts and tools for reflection and action it invites to rethink how we approach our role as coaches and our contribution as both professionals and citizens. I have worried about, puzzled over and pursued concerns for the health of the environment for more than fifty years. At times I have been despairing of our lack of action. This book makes me more hopeful that our profession can make a difference if we accept the authors invitation. Some books are important. This one is essential. I implore all coaches to both read and engage with the journey it offers. The world and our future demands no less.' - Professor David A Lane, Professional Development Foundation.

'In our work, some of the richest material are the things not being talked about. And chief among those is climate change. How can coaches and mentors be concerned for the wellbeing of their clients if they avoid discussing the very environment in which the work takes place? This fascinating dialogue explores ways to open up a vital conversation that underpins the flourishing of us all. By turns philosophical, practical, spiritual and realistic, this fascinating and necessary read offers productive ways out of denial and into action.' - Margaret Heffernan, CEO and Author, Wilful Blindness and Uncharted

'In the face of the climate emergency and ecological breakdown, every profession is called to reinvent itself. It's wonderful to see the coaching profession taking on the challenge is a profound and wise manner.' - Frederic Laloux, author of Reinventing Organizations

'This very timely anthology captures deep and original insights from a collective of global voices to address the future of humanity and our planet. The authors pose a vital question: how can coaching, mentoring, supervising and training make the most beneficial contribution to the great challenges of our time? It is a call for all of us: how can climate and ecology be integrated into our practice? Based on a seven-day 'eco-journey' with four convenors, over 60 contributors ask and answer challenging questions about what it means to be a practising coach today – and in what way coaching needs to transform. What, in fact, are the wider responsibilities of a coach to society? And do practitioners enable those economic, political, and ecological systems that perpetuate themselves, thus dangerously harming the planet? David Lane points out, coaches work with decision makers in industries that have a big impact on the environment. Sir John Whitmore defined the purpose of coaching as raising awareness so that people would take responsibility and ownership for their choices. He apparently did so with full awareness of our impending climate and ecological crisis. If coaching is good at helping people take a larger view of their reality, then what can coach practitioners and supervisors do to help clients to transform their businesses? The book identifies a role for coaches to support leaders in transforming the rules of the game itself. But to shift our perspectives as coaches, we need to look at the 'regeneration' of coach development and training and develop the courage to act. This book asks difficult questions that as practitioners we need to begin to address urgently. As Peter Hawkins says, the coaching profession needs to move from being individual and ego centric to being eco centric.' -Dr Sunny Stout-Rostron, University of Stellenbosch School of Business.



About the Editor(s)
Eve Turner combines research and writing with a busy coaching and supervision practice. A fellow at Henley Business School and the University of Southampton, she received the 2018 EMCC and Coaching at Work awards for Supervision, the Coaching at Work 2019 and 2015 Best Article/Series awards and the 2015 EMCC Coaching Award.
Peter Hawkins is Professor of Leadership at Henley Business School, founder and Chairman Emeritus of Bath Consultancy Group and co-founder of Centre for Supervision and Team Development. He is a leading consultant, writer and researcher in executive coaching, leadership, and creating coaching cultures in organizations.
You may also like