DSM-5 Casebook and Treatment Guide for Child Mental Health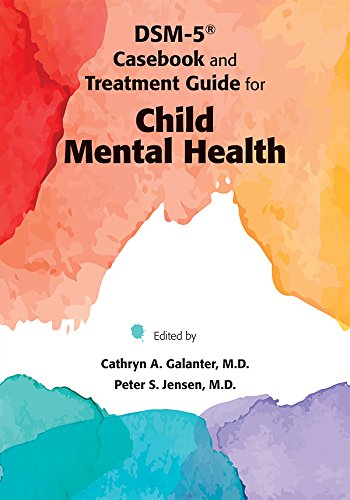 DSM-5 Casebook and Treatment Guide for Child Mental Health offers trainees and clinicians who provide mental health services to children and adolescents a concise but conceptually and clinically rich guide to the types of disorders commonly found in practice. The cases are either new or updated from the previous publication, which was designed as a child mental health casebook for DSM-IV-TR, and were chosen to illustrate advances in diagnosis and evidence-based assessment and treatment with DSM-5 in mind.
For each case, commentaries are included from a child psychiatrist and child psychologist, who review each vignette and address it from both psychotherapeutic and psychopharmacologic treatment perspectives, with attention to other modalities that might be important for clinical management. This panel approach allows for a diversity of perspectives and provides valuable, complementary insights into each case. The book is structured in a logical, user-friendly way, with many features that facilitate and enhance learning: Each of the book's five parts offers an introduction by the editors, who summarize and contextualize the information presented in that part, providing a framework for understanding and building bridges to the other sections. The 29 case vignettes are fascinating, instructive, and diverse.
The cases range from fairly clear diagnoses, to more complex presentations (such as when patients with comorbid conditions), to the most difficult cases (when the diagnosis is unclear, the patient has not responded to previous treatment, only limited evidence is available on the correct means of treatment, and/or the patient's psychopathology occurs in the context of extreme psychosocial stressors). The book's final part addresses diagnostic and treatment decision making and includes two chapters on clinical and research issues in the diagnosis and treatment of child psychopathology. The book's cross-disciplinary approach makes it appropriate for clinicians and trainees from all disciplines who are involved in treating children and adolescents with mental health problems.
DSM-5 Casebook and Treatment Guide for Child Mental Health is unparalleled in its engaging style, up-to-date information, and expert, evidence-based guidance in conceptualizing diagnosis and treatment.
Contents:
Preface.
Introduction: Our Conceptualization of the Cases.
Acknowledgments.
Part I: Classic Cases Introduction to Classic Cases. Trouble Paying Attention: Attention-Deficit/Hyperactivity Disorder. Trouble With Transitions: Does My Child Have Autism? Living in Her Parents' Shadow: Separation Anxiety Disorder. Chatterbox at Home: Selective Mutism. Everything Bothers Her: Major Depressive Disorder. Excessively Silly: Bipolar Disorder. Life of the Party: Chronic Marijuana Use. Jerking Movements: An Adolescent With Psychosis. She Just Won't Eat a Thing: Anorexia Nervosa. I Just Can't Stop: Tourette's Disorder. He's Always Exhausted: Disordered Sleep in an Adolescent. The World Is a Very Dirty Place: Obsessive-Compulsive Disorder.
Part II: Comorbid Complexity. Introduction to Comorbid Complexity. Stealing the Car: Disruptive Behavior in an Adolescent. Zero Tolerance: Threats to Harm a Teacher in Elementary School. Anxious Adolescent in the Emergency Room: Misuse of Prescription Medications. The Worried Child: A Child With Multiple Anxiety Disorders. Affective Storms: A Careful Assessment of Rage Attacks. Struggling in School: Language and Reading Difficulties. Abdominal Pain in a Child With Inflammatory Bowel Disease.
Part III: Toughest Cases: Diagnostic and Treatment Dilemmas. Introduction to Toughest Cases. Frequent Tantrums: Oppositional Behavior in a Young Child. Toddler With Temper Tantrums: A Careful Assessment of a Dysregulated Preschool Child. Won't Leave His Room: Clinical High Risk for Developing Psychosis. Cutting Helps Me Feel Better: Nonsuicidal Self-Injury. From Foster Care to the State Hospital: Psychotic Symptoms in a Child Who Is the Victim of Neglect.
Part IV: Kids in Crisis: Psychopathology in the Context of Social Stressors. Introduction to Kids in Crisis. Suicidal Ideation After Supervised Visits With Biological Mom: Depressed Mood in a Child in Foster Care. The Legacy of War: Irritability and Anger in an Adolescent Refugee. Moody Child: Depression in the Context of Parental Divorce. Without My Mom, I'm Not Me: Childhood Bereavement. Never Met a Stranger: Disinhibited Attachment in a Toddler.
Part V: Diagnostic and Treatment Decision Making. Diagnostic Decision Making. Research and Clinical Perspectives on Diagnostic and Treatment Decision Making: Whence the Future? Index of Cases by Diagnosis. Subject Index.
About the Editor(s)
Cathryn A. Galanter, M.D., is Visiting Associate Professor of Psychiatry and Director of the Child and Adolescent Psychiatry Fellowship Program at SUNY Downstate/Kings County Hospital Center in Brooklyn, New York.
Peter S. Jensen, M.D., is Professor and Acting Director of the Division of Child and Adolescent Psychiatry in the Department of Psychiatry at the University of Arkansas for Medical Sciences in Little Rock, Arkansas; and President/CEO of The REACH Institute in New York, New York.
You may also like