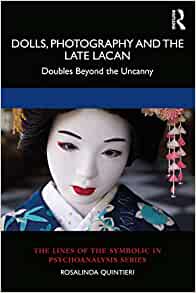 Book Details
Publisher : Routledge
Published : December 2020
Cover : Paperback
Pages : 178
Category :
Lacanian Psychoanalysis
Catalogue No : 96088
ISBN 13 : 9780367445027
ISBN 10 : 9780367445
In this fascinating new book, Rosalinda Quintieri addresses some of the key questions of visual theory concerning our unending fascination with simulacra by evaluating the recent return of the life-size doll in European and American visual culture. Through a focus on the contemporary photographic and cinematic forms of this figure and a critical mobilisation of its anthropological complexity, this book offers a new critical understanding of this classical aesthetic motif as a way to explore the relevance that doubling, fantasy and simulation hold in our contemporary culture.
Quintieri explores the figure of the inanimate human double as an "inhuman partner", reflecting on contemporary visuality as the field of a hypermodern, post-Oedipal aesthetic. Through a series of case studies that blur traditional boundaries between practices (photography, performance, sculpture, painting, documentary) and between genres (comedy, drama, fairy tale), Quintieri puts in contrast the new function of the double and its plays of simulations on the background of the capitalist injunction to enjoy.
Engaging with new theories on post-Oedipal forms of subjectivity developed within the Lacanian orientation of psychoanalysis, Quintieri offers exciting analyses of still and moving photographic work, giving body to an original aesthetic model that promises to revitalise our understanding of contemporary photography and visual culture. It will appeal to psychoanalysts and researchers from Lacanian psychoanalysis, visual studies and cultural theory, as well as readers with an academic interest in the cultural history of dolls and the theory of the uncanny.
About the Author(s)
Rosalinda Quintieri is a post-doctoral researcher based at the University of Manchester, UK. In her research and writing, photography and visual culture converge with aesthetics, psychoanalysis and an anthropology of technology. Her previous work on the poetics of the object in outsider and contemporary art has appeared in PsicoArt and Prospero's. She was awarded a President's Doctoral Scholar Award (2013–2016) to complete her PhD in Art History and Visual Studies, from which this book was born.
You may also like