Digging for Victory: Horticultural Therapy with Veterans for Post-Traumatic Growth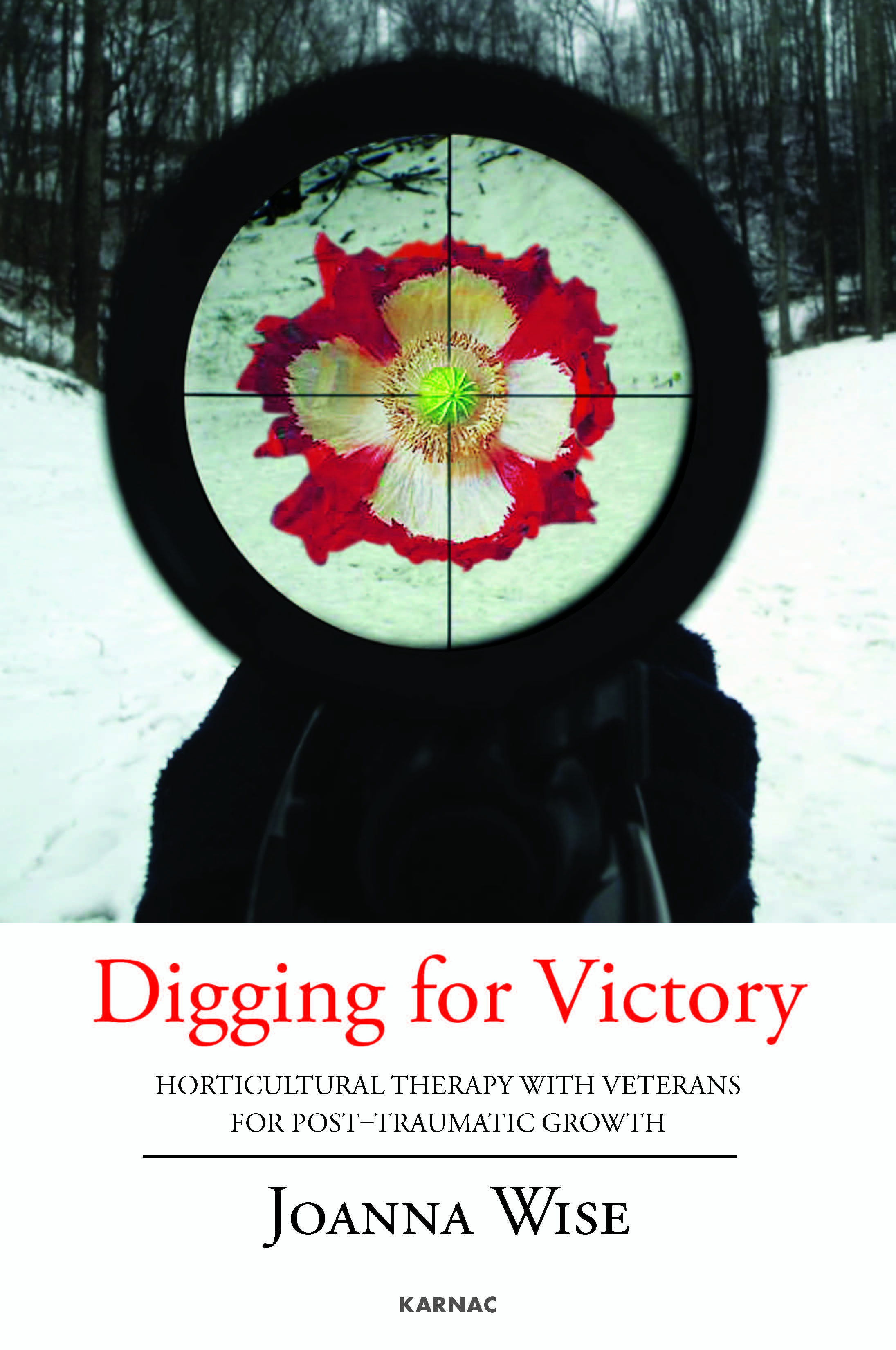 Book Details
Publisher : Routledge
Published : March 2015
Cover : Paperback
Pages : 336
Category :
Individual Psychotherapy
Catalogue No : 35042
ISBN 13 : 9781782200994
ISBN 10 : 1782200991
Our Customers Average Rating
Read all reviews (2)





Horticultural Therapy is ideally suited to engage veterans alienated from traditional civilian healthcare routes who present with a range of complex and challenging healthcare needs. It presents, on the surface, as a deceptively simple and accessible activity. Carried out by trained professionals, it is an evidence-based, effective and cost-effective treatment. By targeting specific client-centred goals, it is able to integrate improved individual physical, emotional, cognitive and social outcomes with broader opportunities to transition successfully into civilian society through learning a valuable skill set and a meaningful occupation.
This book provides a comprehensive introduction to the methods of Horticultural Therapy as applied to this unique client group. It describes the type of combat training and experiences veterans may have had, and sets out the common issues and pitfalls civilian therapists often face when working with the military. Looking to the future, it also identifies promising avenues in terms of how we may improve the treatment we offer to best serve the needs of these ex-service men and women who fight on our behalf.
Reviews and Endorsements
Read a review of this title in 'The Guards Magazine, Winter 2015 issue'
Read a review of this title in 'Journal of Therapeutic Horticulture'
'In this excellent and timely book, Joanna Wise has brought together the evidence that activities in the garden can substantially benefit the mental and physical health of patients. She has concentrated on the plight of war veterans who often have little support, and may have severe physical problems and stress, as well as isolation from their comrades. Her description of how properly to use therapeutic gardening and of its effects are entirely applicable to non-military patients, and I believe should be more widely used, both in the community and in prisons, with financial savings to the NHS. I strongly endorse this book, which I hope will be read by all those caring for military and civilian patients.'
— Sir Richard Thompson, Immediate Past-President, Royal College of Physicians; Patron of Thrive (National Society for Horticultural Therapy)

'Most of those who serve our country come back hale and hearty in mind and body. But some do not. It was ever thus. I am particularly concerned about those who have developed mental health problems, because they can struggle more than most and they are also all too easy to overlook. Occupational interventions such as "Gardening Leave" have a long and distinguished tradition in helping people recover, as well as adding to the general attractiveness of our environment for all of us to share. I am delighted to add my support to Digging for Victory: Horticultural Therapy with Veterans for Post-Traumatic Growth.'
— Professor Sir Simon Wessely, Director, King's Centre for Military Health Research; President, Royal College of Psychiatrists

'I fully endorse and support this book. The returning warrior, home from the battle and returning to the farm, "Going back to the plow and back to the earth", is a concept as old as agriculture itself. Digging for Victory is tapping into deep and powerful cultural and biological roots that we can use to help our veterans heal.'
— Lt Colonel Dave Grossman, author of On Killing

'As a horticultural therapist and educator, I found this book to be thoughtfully constructed and a valuable resource for any professional who provides therapy for veterans. Information about the needs, characteristics, and corresponding psychological and social processes of veterans are well researched and clearly articulated. The author effectively points out the potential benefits of using horticultural therapy to address these concerns and provides practical details of interventions, staffing, garden and program design for success. This book serves as a model for what I hope will follow by other authors – specialised horticultural therapy guides for particular populations. Well done!'
— Rebecca Haller, HTM, Horticultural Therapy Institute, Denver; Affiliate Faculty, Colorado State University, Department of Horticulture and Landscape Architecture

'Thrive welcomes this authoritative text on the application of horticulture as a therapeutic medium for soldiers returning from active combat. Joanna Wise is rapidly becoming the leading practitioner in this field and her well-presented knowledge in this book will be an invaluable source of guidance for many working either specifically with veterans or within horticulture therapy projects more generally. Thrive has for many years promoted the health and well-being benefits of a well-designed and structured horticultural therapy programme that makes use of the variety of gardening tasks, and the garden environment itself, to provide targeted interventions for clients with a wide range of disabilities and health-related challenges. Through her work with Thrive and at Gardening Leave, Joanna has applied her knowledge and expertise to this unique client group and her book clearly illustrates how powerful horticultural therapy can be.'
— Kathryn Rossiter, CEO of Thrive, the Society for Horticultural Therapy in the UK

'This book is a professional and much-needed contribution to the field. Joanna Wise's experience with veterans is evident and she makes such a strong case for the use of horticultural therapy with this population. I enjoyed her writing style, which was thorough and easy to understand. I am so pleased she has written this work and will most definitely recommend it to our students – especially those who are working with or wanting to work with veterans.'
— Christine Kramer, Program Manager, Horticultural Therapy Institute, Denver'

In Digging for Victory, Joanna Wise does something that is long overdue. That is to consider the psychological health and well-being of veterans and to do this via means that those veterans can engage with, rather than to limit them to psychotherapy or medication. This book is a sensitive and attuned engagement with horticultural therapy as an appropriate means of intervening with veterans and the specific difficulties they may have experienced. In this book, readers will find new and novel insights as well as seeing fruitful and creative engagement with some traditional psychological concepts as emotion, cognition, and the like.
Of particular interest is the unapologetic interest in the darker side of the veterans' experience. Not just the aftermath of being in the firing line and risking personal injury or death, but also the trauma of having fired at – or killed – another. The author pays close attention to the physical experience as well as the emotional and offers an understanding of useful therapeutic intervention for those that cannot, or prefer not, to enter into psychotherapy.
This is a book that goes beyond theory and attends to the practice of horticultural therapy with this client group. Readers will find suggestions on the setting up of a programme, on referrals, and supervision, and all of this done with attention to the safety and ethics of the practice. All in all, this is a useful book for those wishing to practise horticultural therapy or those wanting to refer clients to horticultural therapy when their own ability, training, or context precludes them from undertaking this work themselves.'
— Professor Martin Milton, Regents University, London

'You have written an amazing book! I found you the very first time I used Google on your topic. I suppose I should look for a few more in this work but you seem to have it all covered; you have captured everything. I was supposed to be fishing and spent most of the day reading your work – congratulations!'
— Robert Davis, retired Canadian policeman who has two sons in the military with experience setting up horticultural therapy programmes specialising in trauma and addiction

'I read your work with great interest and it is fantastic. So incisive, excellently researched, and what particularly struck me was the wonderful way that your words really portrayed the real human emotions and stories. Even those therapists who don't necessarily favour the evidence-based approach would learn a great deal from your findings as you have pitched it perfectly for both schools of thought.
Your work is so badly needed, particularly in the UK, where we need to be compiling our own, relevant evidence base. Your book provides the vital information of which all of us hoping to work with this client group are in dire need. On a personal level, it has definitely given me food for thought, particularly in regard to the symptoms and behaviours of the veterans, of which I had some awareness and some of which I had not fully appreciated or understood.
I was heartened to see your identification that, although PTSD is a significant and increasing problem for the veteran population, their families, and loved ones, there are also other hugely important areas of concern that need to be recognised and addressed in order for horticultural therapy to continue to be an effective treatment modality for veterans. Many people will benefit greatly from this book.'
— Pauline Stowell, DipSTH, Garden Co-ordinator/Horticultural Therapy Practitioner, Dig 'n' Grow, Guideposts Trust


About the Author(s)
Joanna Wise gained a First in Psychology at Birkbeck in 1992, and worked as a Research Psychologist and Psychotherapist, specialising in Cognitive Analytic Therapy and Sexual and Relationship Problems at the Department of Psychiatry, UMDS, Guy's Hospital. She trained in Horticulture and Garden Design at Capel Manor and set up a successful international garden design business based in North West London. Most recently she has united her twin passions of healthcare and horticulture, by becoming a qualified Horticultural Therapist and worked for Gardening Leave, based at The Royal Hospital, Chelsea, with veterans with Post-Traumatic Stress Disorder. She has since gained a broad experience of different client groups working with Thrive (The Society for Horticultural Therapy) and The Harington Scheme, and is a founding member of the Association for Social & Therapeutic Horticulture Practitioners. She is currently carrying out doctoral research on her area of specific interest: developing the use of Horticultural Therapy to facilitate access to the healthcare services for socially excluded client groups.
Customer Reviews
Our customers have given this title an average rating of 5 out of 5 from 2 review(s), add your own review for this title.
Raf Goovaerts on 25/05/2015 20:40:07





(5 out of 5)
Although I have no direct experience of Horticultural Therapy or working with veterans, as a psychotherapist, I found this book a very well written, thoroughly researched, and practical guide for the kind of therapy that might well be most suitable for ex-soldiers. I enjoyed reading the written accounts from various people in this field, the impact of killing and being on the battlefield on the bodies and minds of soldiers, and how simply being outdoors and involved in a wide range of gardening activities, within a wider therapeutic setting, can contribute to healing the trauma of those that have put everything on the line. Much recommended reading for therapists working with service personnel.
Judith Hibbert on 11/05/2015 16:18:46





(5 out of 5)
Gardening has long been recognised as a healing balm for wounded minds - it is 100 years since Dr A. J. Brock developed the use of occupational therapy to treat shell-shock at Craiglockhart in WW1. Yet surprisingly little has been published on the subject and such books as exist tend to be long on anecdote and short on science. Digging for Victory is the first publication to take a rigorous, evidence-based approach to the subject. Joanna Wise marshals her research methodically so that the theory propounded in the first three chapters provides a sound underpinning for the comprehensive "how to" guide to establishing a horticultural therapy programme which follows. The book's clarity and its engaging style make it accessible to the lay reader as well as to the specialist and ensure that it will be indispensable to theorist and practitioner alike.
'Digging for Victory' book launch
'Indeed, there is an eloquence in true enthusiasm that is not to be doubted.'Joanna speaks from the heart to make the case for the use of horticultural therapy in the treatment of PTSD at the launch of Digging for Victory.

Posted by Digging for Victory on Monday, 6 July 2015
You may also like