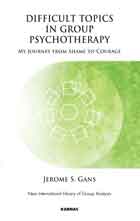 Book Details
Publisher : Routledge
Published : 2010
Cover : Paperback
Pages : 250
Category :
Group Psychotherapy
Catalogue No : 28844
ISBN 13 : 9781855757691
ISBN 10 : 1855757699
This book contains eleven selected papers on difficult topics group therapists encounter in their work. Based on the author's forty years in the field, these papers include the topics of shame, courage, hostility, combined individual and group therapy, money, indirect communication, difficult patients, silence, and the missed session. Written from a psychodynamic orientation with a relational emphasis, they pay special attention to countertransference. An autobiographical introduction to each paper discusses what experiences have led the author to write on each topic. These introductions honor the role that personal experience has played in the evolution of Dr Gan's therapeutic presence.
Reviews and Endorsements
'What a refreshing and reassuring book for group psychotherapists! This collection of Jerome Gans' most important papers confirms his unique ability not only to pinpoint the difficulties that beset us all as group therapists but to bring humour, wisdom and compassion to the discussion. Resolutely determined to leave behind the strictures of theory, he confronts the deepest human paradoxes in which our weaknesses are often our strengths and our difficulties are vital signposts of development. The book pulsates with a sense of Yalom's 'universality': we are all in it together, therapists and patients alike. Readers will learn and enjoy, returning to their groups with renewed curiosity and courage.'
- Morris Nitsun, PhD, Consultant clinical psychologist Camden and Islington NHS Trust, training analyst (Institute of Group Analysis, London)

'Jerome Gans has written the book that no one else has had the courage to write. He addresses the underbelly of group therapy - both of the therapist and of the member. No education of psychotherapy is complete without this knowledge. Every practitioner and trainee should read this book. No other textbook can substitute.'
- Elaine (Lonergan) Cooper, PhD, LCSW, CGP, FAGPA, Clinical Professor, University of California School of Medicine at San Francisco Department of Psychiatry

Contents
Chapter One: Shame
The Detection of Shame in Group Psychotherapy: Uncovering the Hidden Emotion
The Group Therapist's Shame: A Much Undiscussed Topic
Chapter Two: Hostility
Hostility in Group Psychotherapy
Chapter Three:
Broaching and Exploring the Question of Combined Group and Individual Therapy
Chapter Four: Money
Money and Psychodynamic Group Psychotherapy
Chapter Five: Indirect Communication
The Leader's Use of Indirect Communication in Group Therapy
Chapter Six: Difficult Patients
Difficult Patients: Their Construction in Group Therapy
Chapter Seven: Silence
Silence in group psychotherapy: A powerful communication
Chapter Eight: The Missed Session
The Missed Session in Psychodynamic Group Psychotherapy
Chapter Nine: Courage
A Plea for Greater Recognition and Appreciation of our Group Members' Courage
The Courage of the Group Therapy
About the Author(s)
Jerome Gans is a Distinguished Life Fellow of the American Psychiatric Association and a Distinguished Fellow of the American Group Psychotherapy Association. He is Associate Clinical Professor of Psychiatry at Harvard Medical School and Clinical Associate in Psychiatry at the Massachusetts General Hospital in Boston. He has been leading, supervising, and teaching about group therapy for forty years. He has published widely on group and individual therapy, psychological aspects of physical rehabilitation, liaison psychiatry and psychotherapy and literature.
You may also like