Developing Person-centred Counselling: Second Edition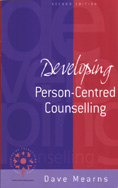 Book Details
Publisher : Sage
Published : January 2003
Cover : Paperback
Pages : 240
Category :
Counselling
Catalogue No : 5818
ISBN 13 : 9780761949695
ISBN 10 : 0761949690
Also by Dave Mearns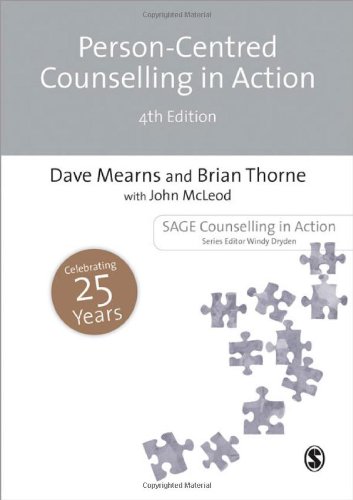 Designed to help counsellors improve their skills within the person-centred approach, the second edition has been fully revised and updated taking account of developments in person-centred practice. Supported by case material and examples from practice, each part of the book presents the counsellor with practical, and often challenging ideas, which encourage them to think carefully about their practice and how to improve it.
Reviews and Endorsements
With new chapters on growth and transference, the book covers the subjects which are central to person-centred training: The core conditions; therapeutic alliance; development of the counsellor; therapeutic process; the person-centred approach in relation to psychopathology.

Contents: Introduction / EXTENDING THE THERAPEUTIC CONDITIONS / Don't confuse unconditional positive regard with 'liking' / Offering the client an engagement at 'relational depth' / What is involved in offering wider contracts to clients? / Extent the core conditions to the whole of your client - introducing 'configurations' of self / Don't get 'hooked on growth' / THE DEVELOPMENT OF THE COUNSELLOR / Counsellor 'paralysis': diagnosis and treatment / Beware the need to appear 'clever' / 'Burn-out' and how to avoid it / Personal therapy is not enough / What to do if you are not perfect / Using the large unstructured group to develop congruence in person-centred training / with Brian Thorne Developing a spiritual discipline / THE THERAPEUTIC ALLIANCE / You do not need to be an 'expert' on the client group or issue to work expertly with the client / Be 'beside' the client, but not 'on the side of' the client / Getting beyond 'transference' / with Brian Thorne Brief companionship / Becoming aware of the 'unspoken relationship' between counsellor and client / Tapping the 'unspoken relationship' between counsellor and client / THE THERAPEUTIC PROCESS / Getting the 'power dynamic' right / Let the client's locus of evaluation be the guide to your working / Assisting the client's focusing / Be aware of and beware the dynamics of self-concept change / Confronting the client / Trouble-shooting 'stuckness' within the therapeutic process / PERSON-CENTRED PSYCHOPATHOLOGY / with Elke Lambers The person-centred perspective on psychopathology: The neurotic client / with Elke Lambers Borderline personality disorder / with Elke Lambers Psychosis / with Elke Lambers Personality disorder / with Dion Van Werde An introduction to client-centred pre-therapy / with Dion Van Werde Dealing with the possibility of psychotic content in a seemingly congruent communication.

About the Author(s)
Dave Mearns is professor of counselling and retired Director of the Counselling Unit of the University of Strathclyde. He has written seven books including Working at Relational Depth in Counselling and Psychotherapy (with Mick Cooper) and is co-editor of the international journal, Person-Centered and Experiential Psychotherapies.
You may also like