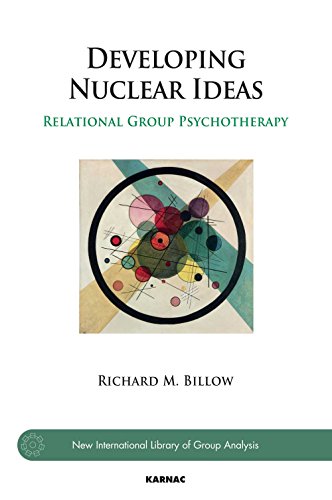 Book Details
Publisher : Routledge
Published : January 2015
Cover : Paperback
Pages : 288
Category :
Group Psychotherapy
Catalogue No : 36048
ISBN 13 : 9781782202059
Also by Richard M. Billow
Building and expanding on concepts presented in his previous volumes (Relational Group Psychotherapy: From Basic Assumptions to Passion, and Resistance, Rebellion and Refusal in Groups: The 3Rs), Richard M. Billow presents a coherent and innovative model of group psychotherapy.
Developing Nuclear Ideas: Relational Group Psychotherapy offers, in experiential terms and with vivid examples, a theoretical and technical approach to understand and organise dynamic group process and drive it towards satisfying the goal of all therapy, the hunger for emotional truth. By developing nuclear ideas, the therapist and the group itself go about the task of containing and making sense of the perceptions, conceptions, affects, and enactments present in all groups. The volume also addresses the impact of thought-limiting, action-orientated polemic ideas.
Integrating contemporary theory with cutting edge technique, the author focuses on the personal nature of the intersubjective process, locating the therapist's experience in the centre of the transformational intensity of group life.
Reviews and Endorsements
'Stimulating and compelling – an invitation to follow Richard Billow's unceasing search for truth. He is a "seelsorger", a Scandinavian term that conveys both psychological and spiritual components. As a "playful thinker", he relishes the thrills and spills in his search; as a risk taker, he dives deeply beneath the surface stirring up depths. I find his writings both exhilarating and contentious. He provoked me to think both with and against his way of working and has left me with an enduring vision. Reading this book is a challenge well worth taking.'
— Malcolm Pines, MD, past President of the Group Analytic Society and of the International Association of Group Psychotherapy

'This book merits a central place on our bookshelves. Keep it close by – Richard Billow's highly engaging text, focusing on emergent nuclear ideas, proposes a framework to better understand group process and respond to the relational needs of the membership. This "nuclear" power will undoubtedly energise both the beginner and the seasoned leader.'
— Jeffrey L. Kleinberg, PhD, past President of the American Group Psychotherapy Association

'This latest book by Richard Billow is a coherent and compelling collection of clinical–theoretical papers that reflect his highly creative thinking. Substantive, articulate, and deep, Billow's writing is at the same time evocative and experience-near. A major contribution to the group therapy literature.'
— Les R. Greene, PhD, President of the American Group Psychotherapy Association

'This book brilliantly captures with clinical examples how nuclear ideas evolve. Richard Billow avoids strictures imposed by theoretical assumptions; instead he receives and attends to his group's productions with ears, eyes, bodily sensations, imagination, intellect, memory, and heart. It is written with the qualities that we would prize in our own group therapist: self-awareness, open-mindedness, vibrancy, integrity, emotional attunement, dedication to the non-dogmatic seeking of emotional truth, respect for people and complexity, and an appreciation of the centrality of the therapist's psychology in all phases of group life. A masterpiece and the culminating work of a writer and therapist at the pinnacle of his creative powers.'
— Jerome S. Gans, MD, Associate Clinical Professor of Psychiatry, Harvard Medical School

'Richard Billow's creative and innovative ideas applying relational psychology to the group psychotherapy setting is a ground-breaking work.'
— Leonard Horwitz, PhD, past President of the American Group Psychotherapy Association
About the Author(s)
Richard M. Billow, PhD, is a diplomate in group psychotherapy, a clinical psychologist and psychoanalyst, and an active contributor to the psychoanalytic and group literature. He is Clinical Professor and Director of the Group Program of the Derner Institute of Advanced Psychological Studies, Adelphi University, New York, with a private practice in Great Neck, New York.
You may also like