Dementia: An Attachment Approach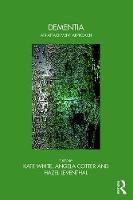 Book Details
Publisher : Routledge
Published : October 2018
Cover : Paperback
Pages : 152
Category :
Attachment Theory
Catalogue No : 93776
ISBN 13 : 9781138327054
ISBN 10 : 1138327050
Also by Kate White

This interdisciplinary book offers a relational perspective to dementia care drawing on attachment theory and practice. Relevant to professionals and public alike, it brings together innovative research and practice in psychotherapy and the creative arts with the lived experience of being a carer. Indeed, the book includes insights from professional and personal experience throughout. It also provides exclusive access to Josh Appignanesi's short film, Ex Memoria, about his grandmother's experience of dementia, poignantly portrayed by Sara Kestelman. Chapters include the experience of caring for a sister with dementia; the importance of an attachment perspective in theory and practice; a new approach to understanding the possible origins of dementia in trauma; contemporary understandings from clinical and research arenas; the description of a leading-edge project providing psychotherapeutic work; and an innovative creative arts and reminiscence European-wide family intervention for those living with dementia.
Written in accessible language, Dementia: An Attachment Approach will be of great interest to people living with dementia, as well as those working with, and caring for, people with dementia in a variety of contexts including nurses, doctors and psychiatrists, clinical and counselling psychologists, social workers, health and social care workers, family carers and psychotherapists, as well as creative arts practitioners and policymakers.
About the Editor(s)
Kate White is a training therapist, supervisor and teacher at The Bowlby Centre. Formerly senior lecturer at South Bank University in the Department of Nursing and Community Health Studies, she has used her extensive experience in adult education to contribute to the innovative psychotherapy curriculum developed at The Bowlby Centre. In addition to working as an individual psychotherapist, Kate runs workshops on the themes of attachment and trauma in clinical practice.
You may also like