Dante and the Other: A Phenomenology of Love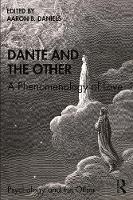 Book Details
Publisher : Routledge
Published : December 2020
Cover : Paperback
Pages : 226
Category :
Psychoanalysis
Catalogue No : 95424
ISBN 13 : 9780367675851
ISBN 10 : 9780367675
Also by Aaron B. Daniels
Dante and the Other brings together noted and emerging Dante scholars with theologians, philosophers, psychoanalysts, and psychotherapists, bridging the Florentine's premodern world to today's postmodern context. Exploring how alterity has become a potent symbol in religion, philosophy, politics, and culture, this book will be of interest to many related fields.
The book offers a thorough foundation in approaching Dante as proto-phenomenologist. It includes an informative review of literature, historical insight into Dante's poetics-toward-ineffability as alternative to modern scientism, a foray into science fiction, existential elaborations, phenomenological analyses of Inferno's Canto I, and applications to psychotherapy and qualitative research. It also contains a poem from an imagined Virgil retiring in Limbo, and a meditation on Dante's complicated relationship to homosexuality.
Dante and the Other presents the mystical passion of apophatic spirituality, the millennia-spanning Augustinianism of radical orthodoxy, Levinas, Heidegger, and many others-all driven by Dante's Labors of Love. It is essential reading for Dante scholars, as well as readers interested in his works.
About the Editor(s)
Aaron B. Daniels teaches psychology in Boston, Massachusetts. He holds degrees from: Baldwin Wallace College (BA); Duquesne University (MA), where he studied existential phenomenology; and Pacifica Graduate Institute (PhD), where his degree emphasized the depth tradition. After working for a decade in private and public practice, he transitioned into academia. His previous two works, Imaginal Reality, Volume One: Journey to the Voids and Imaginal Reality, Volume Two: Voidcraft were both published in 2011. Written with Laura M. Daniels, they are syntheses of imaginal psychology with existential principles.
You may also like