Couples Group Psychotherapy: A Clinical Treatment Model: Second Edition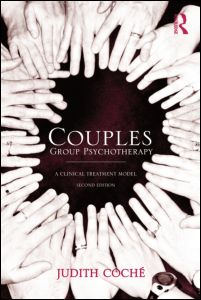 This Second Edition is an up-to-date model based on more than twenty years of work and research with outpatient couples groups. In the text, therapists will find everything they need to conceptualize and develop a successful practice based on group psychotherapy for couples. The book combines tenets of individual personality development, family systems theory, and group psychotherapy theory, blending aspects of the theoretical basis of each in order to build a conceptual framework that incorporates the strengths of all three.
Couples Group Psychotherapy also shows clinicians how to use this framework to treat individual clients, how to assess the groups progress, and how to understand the evolving relationship between participating couples. The model is a cost-effective, time-efficient way to address the needs of diverse communities and uncommon settings, and it harnesses the best of both family and group psychotherapy. Clinicians will come away from this book with a significantly enhanced skillset and a broadened understanding of how to treat couples effectively.
About the Author(s)
Judith Coché is a clinical professor of psychology in psychiatry at the University of Pennsylvania Medical School, where she is also coordinator of the group psychotherapy residency training program. She is a diplomate in clinical psychology from the American Board of Professional Psychology and is a licensed psychologist in Pennsylvania and New Jersey. Her other certifications include clinical supervisor in family and couples psychotherapy from the American Association for Marriage and Family Therapy, as well as certified group psychotherapist. Dr. Coché is a fellow of the American Group Psychotherapy Association and of the Human Services Center of the Philadelphia Society of Clinical Psychologists and has practiced psychotherapy and worked as a clinical supervisor for psychotherapists for more than twenty-five years.
You may also like