Counseling Addicted Families: A Sequential Assessment and Treatment Model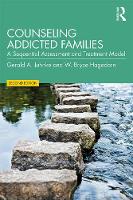 Counseling Addicted Families: Second Edition, is an up-to-date treatment manual that fosters lasting change for families dealing with addiction and addictive disorders. Focused around the clinically esteemed Sequential Family Addictions Model, the book guides counselors through the principles of how to "progressively sequence" a client family during their change process, and explores how family counseling theories and interventions can be applied in treatment settings.
This revised second edition aligns with the DSM-5 Substance Use Disorder criteria and terminology and includes new sections on neuroscience and cutting-edge drug detection assessment methods. Both experienced and entry-level counselors will appreciate how the model improves their clinical skills and knowledge to address the idiosyncratic needs of each individual family system and create healthy systemic change.
You may also like