Connections: The New Science of Emotion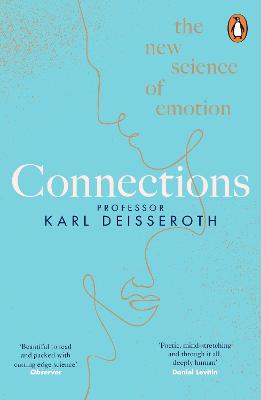 Book Details
Publisher : Penguin
Published : August 2022
Cover : Paperback
Pages : 234
Category :
Popular Psychology
Category 2 :
Memoir
Catalogue No : 96407
ISBN 13 : 9780241985816
ISBN 10 : 9780241985
Mental illness is one of the greatest causes of human suffering, its nature and origin a long-held mystery. But thanks to new science and technology, our understanding has reached a tipping point. In Connections, Professor Karl Deisseroth intertwines his own breakthrough discoveries with moving case studies from his experience as an emergency psychiatry physician, in order to tell a wider story about the origins of human emotion.
Addressing some of the most timeless questions about the human condition while illuminating the roots of misunderstood disorders such as depression, psychosis, schizophrenia and sociopathy, Connections transforms the way we understand the brain, and forges a bold new path forward in our understanding of mental health.
Reviews and Endorsements
'Revelatory . . . it recalls the case histories of Oliver Sacks, at times the sweep of Yuval Harari's Sapiens. He writes with an evident love of words - but also, with a lucid line of scientific enquiry' - The Guardian

'A master storyteller. His graceful prose weaves a tapestry of complex ideas into memorable stories, each illuminated by cutting-edge science. A delight' - Kathryn Mannix, author of With the End in Mind

'Beautiful to read and packed with cutting-edge science' - The Observer

'Poetic, mind-stretching and, through it all, deeply human' - Daniel Levitin
About the Author(s)
Karl Deisseroth is the D.H. Chen Professor of Bioengineering and of Psychiatry and Behavioural Sciences at Stanford University. He is known for creating and developing optogenetics and hydrogel-tissue chemistry - advanced technologies for studying the function of the brain intact, allowing complex emotions to be studied at the level of individual cells. A member of the National Academy of Medicine, the National Academy of Sciences, and the National Academy of Engineering, Deisseroth has received numerous prizes for his discoveries, including the Kyoto Prize, the Breakthrough Prize, and most recently the 2020 Heineken Prize in Medicine. This is his first trade book.


You may also like