Confessions from the Couch: Psychoanalytical Notions Illustrated with Extracts from Sessions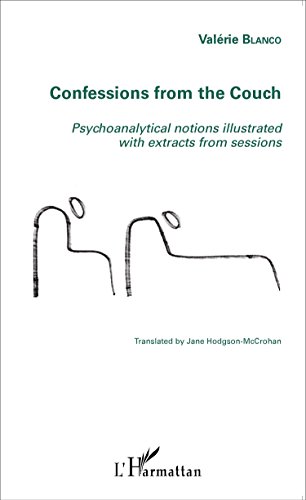 Book Details
Publisher : L'Harmattan
Published : 2015
Cover : Paperback
Pages : 102
Category :
Psychoanalysis
Category 2 :
Lacanian Psychoanalysis
Catalogue No : 37769
ISBN 13 : 9782343062440
ISBN 10 : 9782343062
The unconscious? The Oedipus complex? The castration complex? Neurosis? The objet a? What are they? And what does one say to an analyst? What happens during an analysis?
For those asking questions about psychoanalysis, Confessions from the Couch gives clear and simple answers. The principal psychoanalytical notions, both Freudian and Lacanian, are explained and illustrated with chosen extracts from actual analytical sessions.
Valérie Blanco has brilliantly used an everyday language to explain concepts that can be difficult to grasp. This book is accessible to everybody. It offers a riveting opening into psychoanalysis and allows the reader a glimpse of actual psychoanalytical practice.
Table of contents
FOREWORD
CHAPTER 1 – The unconscious and symptoms
CHAPTER 2 – Castration
CHAPTER 3 – Oedipus
CHAPTER 4 – The psychic structures
CHAPTER 5 – The three registers: the Real, the Symbolic, the Imaginary
CHAPTER 6 – The lost object and desire
CHAPTER 7 – The hysteric neurosis and the obsessional neurosis
CHAPTER 8 – The mirror stage
CHAPTER 9 – The other and the Other
CHAPTER 10 – Jouissance, repetition and fantasy
CHAPTER 11 – The analysis
About the Author(s)
Valérie Blanco is a French psychoanalyst. She studied at the department of Psychoanalysis at Paris 8.
Jane Hodgson-McCrohan is English and has been living in Paris for more than 20 years. She studied psychoanalysis at the University of Paris 8.
You may also like